As far as running goes, 2018 was my biggest and best year yet.
Earlier this year I set myself some goals so now that we've survived another trip around the sun it's time to check in and see how I'm progressing. Just as in earlier years this post is really for my own self reflection - but it can be fun to publicly review and plan sometimes.
The year was big - very big! I clocked just over 2,000km for the year which was an increase of over 400km on 2017. I ran distances I'd never run before, ticked off two more trail marathons (numbers 2 and 3 in all), and threw in a couple of 36km races for giggles.

Year-on-year mileage progression, courtesy of Elevate for Strava
I dropped my 5km time by 20 seconds and my 10km time by over 2 minutes. I finished Two Bays 28km 10 minutes faster than 2017, and Surf Coast Trail Marathon 15 minutes faster. I spent 7h45m on my feet at UTA50, a time and distance best (or is that craziest?)
I also took my first big fall, banging up my leg and the left side of my body 2 days before Christmas. It hurt, but I seemed to recover well until dislocating my little toe on Christmas Day sidelined me for the remainder of the year. Ouch.
2018 was also the year my family gained more of an interest in running. My wife Lauren completed the DCR Start To Run program and ran her first parkrun, and my kids had a ball at a handful of Junior parkrun events.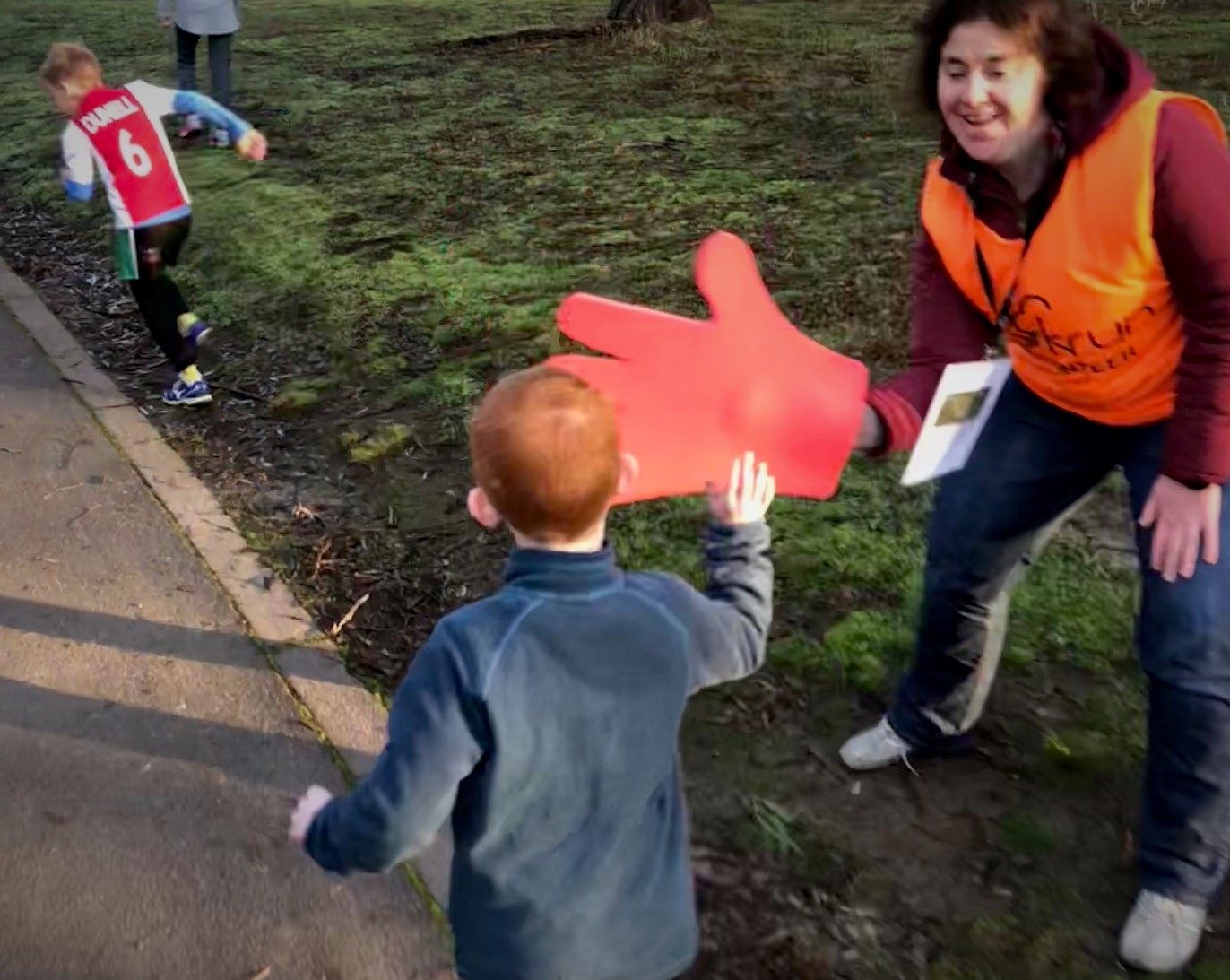 Our 6 year old gets a high-5 from a Westerfolds Junior parkrun volunteer marshal
2018 Goal review
Run a 50k - done! In May I ran the Ultra Trail Australia 50k in 7h45m.
Run another Marathon. Go below 5 hours if it's a trail run. Done! Just after UTA I revisited Surf Coast Trail Marathon - with kinder weather than in 2017 - in a time of 4h53m. I also ran the hilly Marysville Trail Marathon in 5h29m on a hot November morning.
Get my parkrun 5k time below 20 minutes Doh! Not quite... I achieved 20:24 at the end of November.
Find a way to run these long races with less impact on my family I give my self a B- mark on this. I still talk about running too much but have tried to reduce the times I'm away over dinner time or for all-day mission runs. I've managed to get more runs in before work and at lunchtime which certainly makes this easier.
Looking to 2019
I'm starting the year with a doozy - the 56km version of the Two Bays Trail Run, from Cape Shanck to Dromana and back. I've run the 28km twice before and it's a brilliant run so I'm really looking forward to the "double" in a couple of weeks.
Beyond that, with the DCR crew we've planned out a few trail adventures.
Mt Buller Skyrun 45km, April 2019
Wilsons Prom 60km, May 2019
Surf Coast Century 100km (or similar) in October
The first two of these are pretty low-key events: minimal aid stations, no medal, no loud music and fanfare. We did the 36km course at Mt Buller in 2018 and I'm looking forward to adding a visit to Craig's Hut in 2019.
So, what are some measurable goals for the year?
Run a total of 2,500km. That's a 25% increase on last year but should be possible with the prework and lunchtime runs I've started fitting in.
Parkrun below 20 minutes. For sure, this time.
10km below 41:30.
Four ultramarathons: Two Bays 56k, plus the three listed above.
Keep fostering an enjoyment of exercise in general, and running specifically, in my family.
It's been a fantastic year and I can't wait to keep running and improving in the coming year.
Photo: Just before the steps to the finish line of the Surf Coast Trail Marathon, June 2018. There was rain and sun but no high tide!