Hi, I'm Ross.
My name is Ross Poulton. I'm 30-something, and I'm a problem solver.
I've got a pretty broad collection of interests: fatherhood, running, music, photography, barbeque, and craft beer. I've written a little about some of those things below.
In 2011 I became known as "Dad" to a pretty cool little kid. Being a dad has bought me more enjoyment (not to mention taught me more about time management and shown me what my real sleep requirements are) than I ever imagined possible. Our second son arrived in 2014, further reducing our actual required levels of sleep.
Also in 2011 I completed my Bachelor of Business at Swinburne University. I started working immediately after completing high school, and later decided a tertiary education was a good idea. Unlike many university students I wasn't there to get a job, but rather to broaden my horizons a little and expand my understanding of business theory. So far it seems to be working.
Latest blog posts
I don't write as regularly as I'd like to, but here are the last few things I've added to the site:
I'm passionate about helping others build better customer relationships
The last decade and a half of my career have been in the Microsoft Dynamics 365 (nee Microsoft CRM) space. I'm a strong believer in helping organiations improve the relationships with their customers and other stakeholders.
My current role is as the Practice Manager (CEC) at Fusion5 in Melbourne. I lead a team of high-performing functional and technical consultants, along with a project management team, delivering CRM projects to organisations of all stripes and colours.
I've helped mentor junior consultants, build new software systems, run training for technophobes, sold software, and dabbled in low-code development. I've successfully used every methodology under the sun: from the older waterfall design-up-front-then-build-it-all process to newer agile processes, and all sorts of hybrids in between.
Most of my focus has been on membership-based organisations, such as sporting clubs and professional associations. I help streamline renewal processes, make it easy for their customers to buy event tickets, and integrate multiple back-office systems together so that end users don't have to do things twice.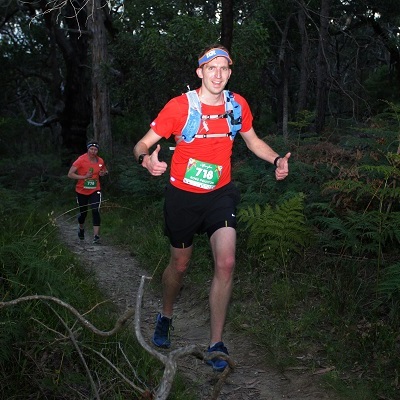 I like to run
I love to run, especially on trails.
With my local running club I do everything from 5km parkrun events each Saturday through to half marathons and ultramarathons, on road and on trail. I'm not much one for hippy dippy bullshit, but hitting the trails and being surrounded by trees is one of the most freeing and cleansing things I can do. It keeps me fit and healthy, and resets my head.
That shiny sweaty photo is me late in the 2016 Afterglow Trail Run, a twilight-to-night trail half marathon on the fantastic Surf Coast Trail in south-western Victoria. Who would have thought running in the dark was so much fun?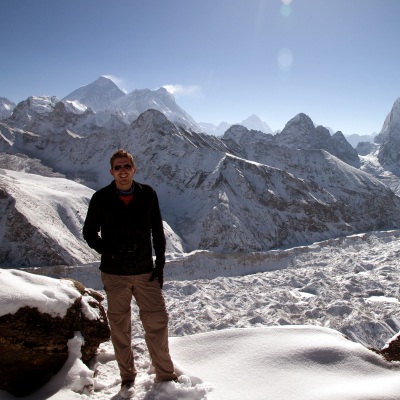 I like to walk
Walking, hiking, trekking, tramping, whatever you want to call it. Walking in the great outdoors is awesome. My adventures have been relatively limited, with walks throughout country Victoria, Tasmania, and Nepal.
That photo is me at Gokyo Ri, 5,457m altitude, one of the most amazing places on the planet. The triangular mountain above my head is Mount Everest (8,848m)
I try to blog
Well, occasionally. I don't regularly write blog posts, but you can see everything that I have written in my blog archive that dates back to 2006. Most of my older posts are somewhat technical, but recently it's got more of a mix of personal, business, and technical.
You: get in touch!
I want to help pay forward the success (and, lets be honest, luck) in my consulting career. There's a bunch of things I'd like to chat about so get in touch if I am able to help you out at all.