The first race I had on my 2019 running calendar was the Two Bays Trail Race, a 56km ultramarathon across the Mornington Peninsula in the peak of the Melbourne summer. In 2017 and 2018 I ran the 28km version of the race, from Dromana to Cape Schanck Lighthouse, and I'd decided that in 2019 I'd do The Real Deal™ and run the 56km return trip (Cape Schanck to Dromana, return).
The energy around Two Bays is amazing. On the Victorian race calendar it's up there as a perennial favourite, in no small part due to the community-building work done by race director Rohan Day and his merry crew of organisers and volunteers. If you're wanting to run a big summer trail race, Two Bays is the choice for most of us in and around Melbourne.
After knocking over the Ultra-Trail Australia 50k last year, and having really enjoyed the last two 28km races at Two Bays, I decided to step it up and enter the 2019 56km race. Caught up in the opening night buzz, I was the very first entrant and had put down my payment before considering training, other races, or who else might be racing. My haste was perhaps a precursor to the entire event.
For any endurance running event the capstone on a training program is the long run. Increasing in distance from week to week it is common for the longest run to reach 70 or 80% of the final race distance. Done at a slow pace these runs help build stamina, bed down hydration and nutrition strategies, and generally prepare you for a long day on your feet. Long runs are hard work, both mentally and physically, but still one of the highlights of a training block: only on a long run can you find yourself hours from home, powered by your own two feet, with unexplored trail rolling out ahead of you.
For Two Bays 2019 my final long run was to be 40km on the trails at Kinglake, north-east of Melbourne, along with fellow crazy runners Paul and Trevor. The day started poorly when I dropped my snake bandage into the campground pit toilet, and ended with two hours of slow hobbled walking after I tripped over on a 4x4 trail and badly hurt my knee after running only 20km. It was my first proper trail running injury but that one slip ruined my running mindset for the rest of the Summer.
Two days later and we were celebrating Christmas Day at home, sitting down to Christmas Dinner having catered for 20 relatives. I decided we needed some more music so picked up my beer, walked into the living room to turn up the speakers, and managed to dislocate my little toe by kicking the corner of the sofa. The 45-degree toe seemed to recover after being 'popped' back in, but I elevated it and held it on ice for the rest of the day just to be careful.
I was two strikes down.
With a still-swollen toe and busted knee, I was in no shape to run so started my taper early and just stopped training through December and January - no running in the three weeks before my longest-ever race wasn't part of the plan!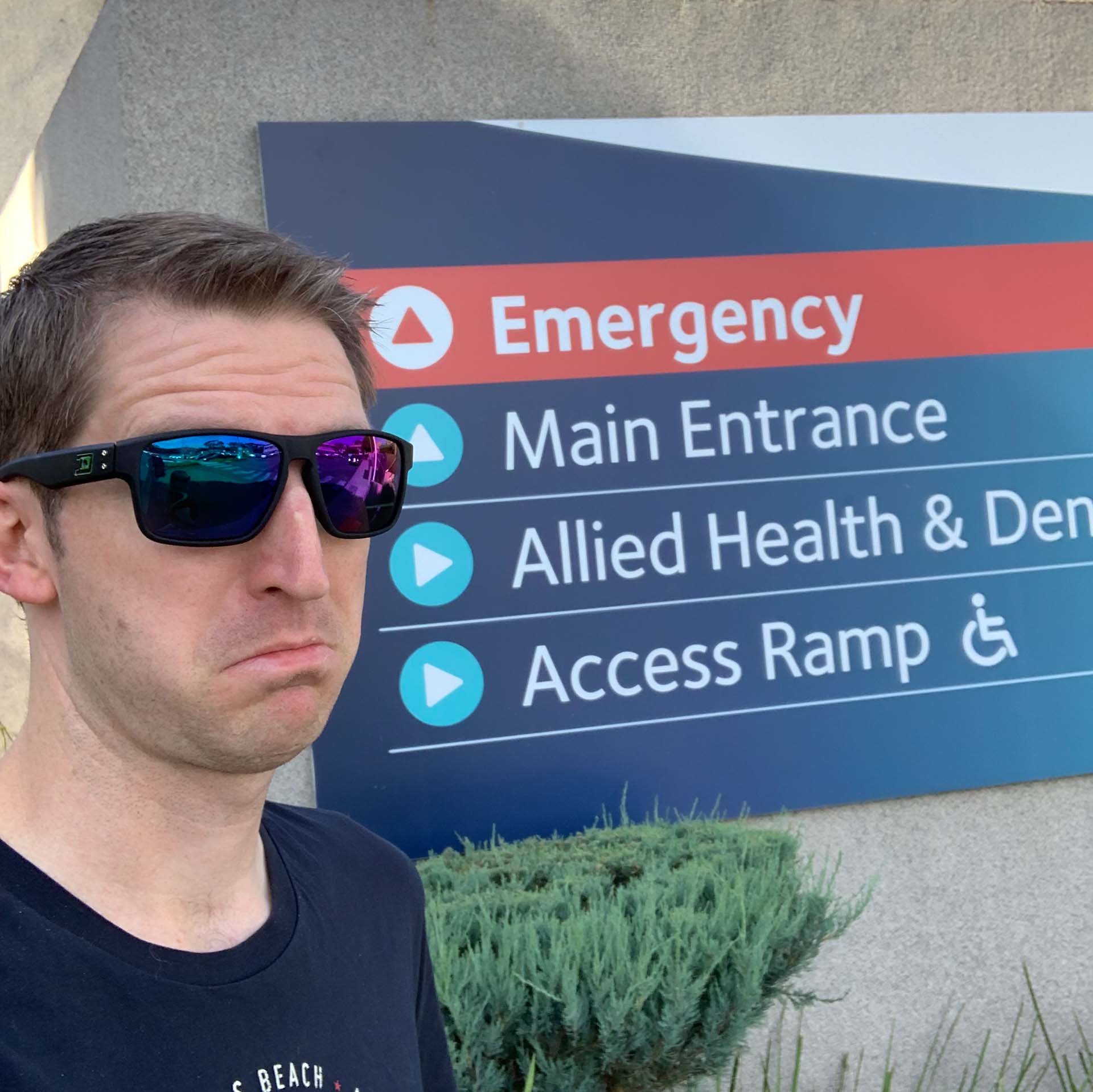 You're not meant to be in the ED a few days after Christmas, at the peak of your race training!
When Paul and I turned up at the Two Bays start line there was a huge buzz. After waiting in the longest toilet line I've ever encountered, I pulled up my pants and joined the back of the crowd just as the starting horn sounded. It was on - I'd crossed the start line of what would be my longest run ever.
The first 6km of the course takes in the sandy trail from the Cape Schanck lighthouse to Boneo Road. Like the entire first half of the course I'd never run it in this direction and as such the trail all felt "new". It was great to be in old-but-unfamiliar territory. After passing through the Boneo Road checkpoint (the volunteers had set up but didn't need to help runners so early in the race - they'd be a must-stop checkpoint at the end of the race! - so they formed a crowd and cheered us on) the 56k course deviates from the 28k course I'd run previously. More new trail - get stoked!
I spent some of this section, beside Rogers Road, chatting with Jon Lim of Vic Ultra Runners (VUR). Unfortunately he wasn't feeling too great (and would later withdraw) but it was great to run alongside each other for 5 minutes and chat about running. Jon's a name I've known for quite a while through the VUR Facebook group, but it was the first time we'd spoken in person. Further along Rogers Road I passed Mara from DCR, picked up a couple of fresh grapes (yum!) and marched on.
Soon the trail turned to sand, which was rather unexpected - it seems to be a dirty little secret that the 56km runners hide from the 28k entrants! After a few slow kilometres slogging along the sandy 'horse trail', we rejoined the familiar 28km course at the top of Hyslops Road. Heading down Hyslops Road towards Browns Road I caught up with another familiar VUR name, Les Corson, who was also having a rough day after a summer of illness.
By this point it was starting to feel a little warmer than I'd hoped for, and to see these experienced ultra runners off their game was a bit of a surprise. Granted, both the wonderful gents I spoke to were having issues that stemmed beyond race day, but in hindsight it still played with my head.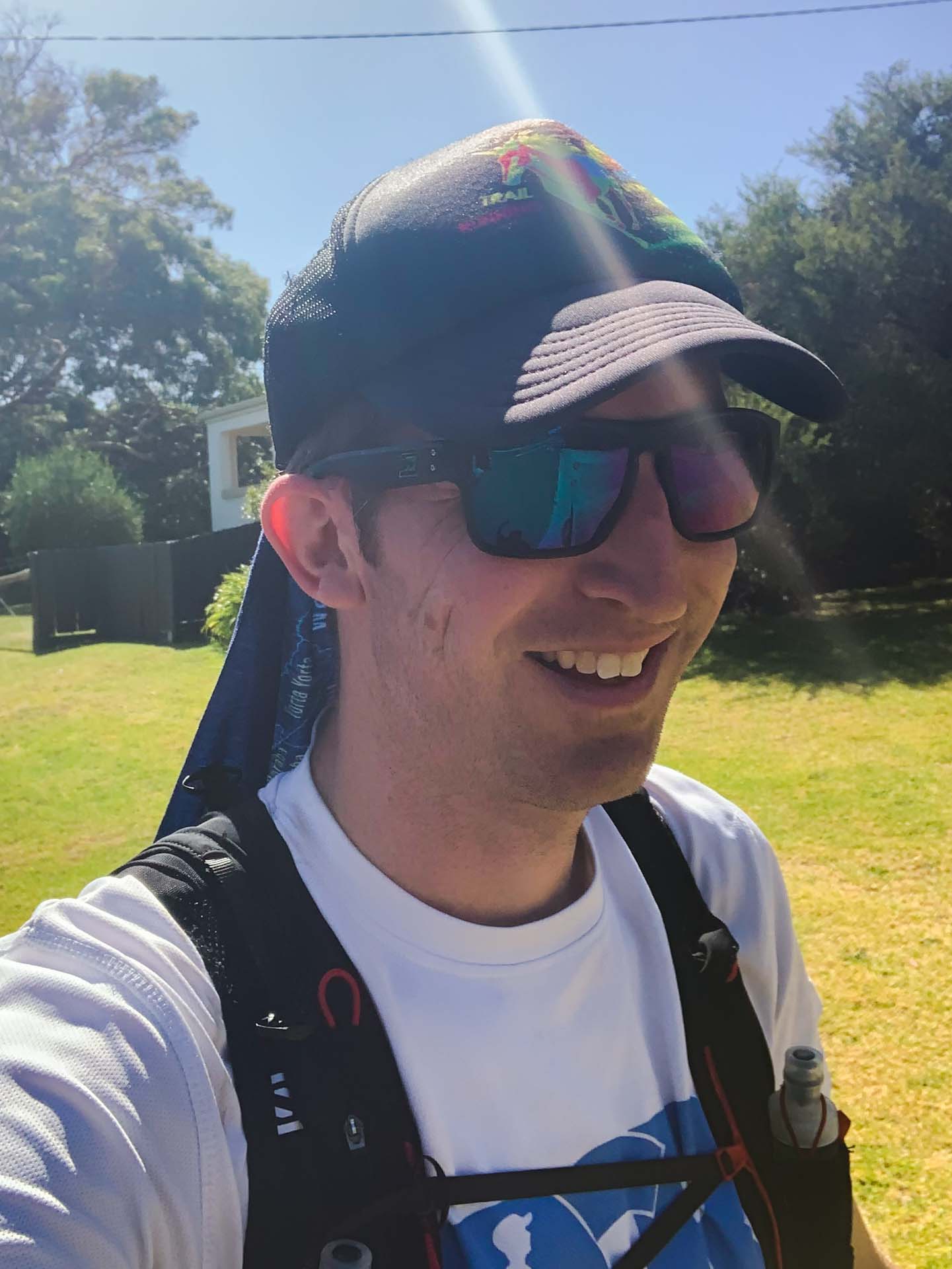 Trying to stay cool enroute back up Latrobe Parade, Dromana, just after the turnaround. Still smiling...
Crossing Browns Road and heading through the beautiful Stefanie Rennick Walk we got our first views of Port Phillip Bay. My destination lay on the edge of the bay, just 9km away! The climb up and over Arthur's Seat didn't feel so bad, the cruise down to Dromana felt good, and seeing the returning runners passing me by was a great feeling. Hell yeah ultra running!
At the 28km turnaround point I felt great. I rang that turnaround bell - one of the most stoke-creating parts of a trail run I've ever seen! - shoved some food in my mouth, and put on some sunscreen thanks to friend / host / crew Kate. With a spring in my step I took off, starting my homeward journey on the Two Bays Trail.
I was now in familiar territory, on the 28km course I had raced twice before. Mentally, this should have been the easy part of the run as the trail would produce no surprises. What I hadn't counted on, though, was the psychological impact of the slow march up Latrobe Parade's unrelenting bitumen hill and the following Arthur's Seat climb.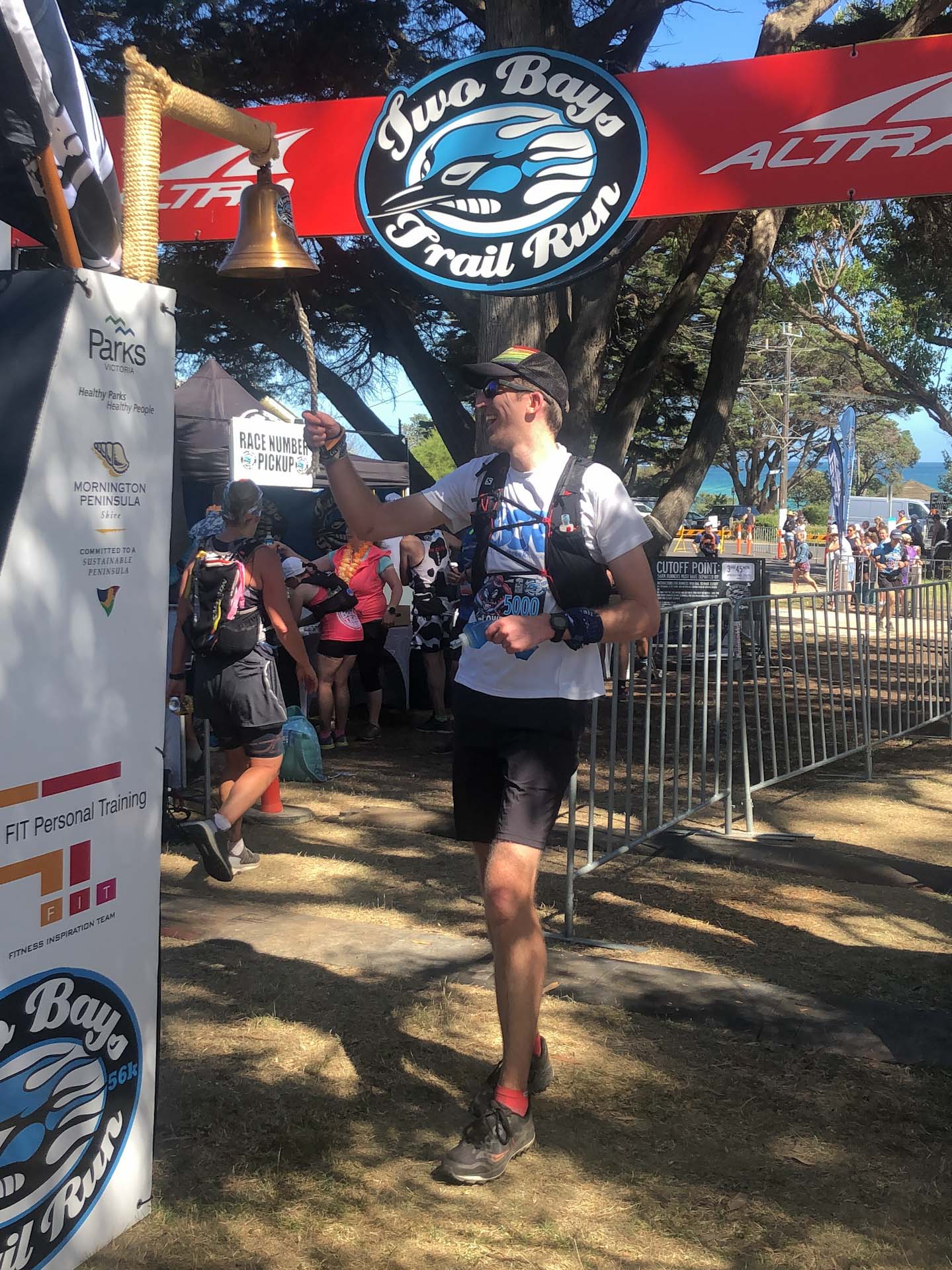 Ding ding ding! The halfway bell at Dromana (Thanks Kate for the pic)
---
Endurance racing is a mental game as much as a physical one. If you're not actually injured, I am sure that most of us could run for much longer than we think we could. This doesn't hold true for running fast, as our muscles just can't respond with that force for that long (otherwise we would all be Olympic sprinters). The problem seems to be that our minds get the better of us and we convince ourselves that we cannot push any further.
This seems to start slowly and eat at you, increasing in intensity, until it seems physically impossible to keep going. At Two Bays, my mind ate me up slowly and then increasingly rapidly:
It was hot. In the scheme of things, it wasn't too hot to race, too hot to keep running, or really that uncomfortable. But it was hot enough for me to convince myself that it was too hot.
My recently-dislocated toe hurt. It wasn't a searing acute pain, and it wasn't impacting my running style, but it was annoying enough to stay front-of-mind.
My knee hurt. The scab from my pre-Christmas fall was gone, but when I wasn't distracted by my toe or the weather my knee was all-encompassing.
I started to worry about time cutoffs. I could have - probably would have? - made the next cutoff point, but when you're moving slowly it's hard to believe you'll get there.
Runners were dropping like flies. I knew many of the runners heading down to the halfway point would never have left, missing the 3hr "soft" cutoff if not the 3:30 hard cutoff.
With the climb up Arthur's Seat my pace had dropped significantly. I spent the better part of an hour walking from Dromana, and by the time I arrived at the highest point on the trail my mind was made up. My quest for a Two Bays finishers medal in 2019 was finished.
---
My first message was to my running buddies who had been watching from afar. I arranged by SMS for Kate to pick me up at the next road crossing then tried calling my wife Lauren, who was at a family function. Thankfully she didn't answer right away: the sound of her voicemail greeting choked me up and caused me to spend a few minutes contemplating why we put ourselves through these challenges (I still haven't figured it out...).
A few minutes later my running mate Rob called (he'd already already completed his 28k run at a cracking pace) to see if I needed a lift or any other help. Whilst I was OK, the chance to talk with another human and say out-loud what I was going through was greatly appreciated and let me say the difficult words "I'm out".
It was real. I was done.
I spoke with Lauren and got everything off my chest, and set on my way to wander slowly to Waterfall Gully Rd, where the trail next crossed a public road. I laughed with the race official who took down my race number and reported it to race HQ. Kate met me with a knowing "Should I try to talk you out of it?" - no, thank you, I'm, done - and gave me a lift back to the start line along with Paul who had also bailed out at the halfway point.
My tired mind had seen me to 35km of the 56km race in 4 hours, 44 minutes. The shiny medal would have to wait.
---
I wrote most of this soon after Two Bays but it's taken until May - almost four months later - to finish and get it out there. My failure at Two Bays has played on my mind a number of times since then. Should I have pulled out? Did I really need to pull out? Can I actually run that far?
As I write, I've recently run two more ultras (Mt Buller 45km, Wilson's Prom 60km) so the distance question seems to be answered, but what of the "should I" question?
I very quickly accepted my DNF result and didn't shy away from it, but that doesn't make it any more logical. Sure, I'd had a rough lead-up to Two Bays and the day was physically more difficult than I expected, but does that mean I shouldn't have finished? Would someone else in my position make the same decision?
The answer I keep returning to was that I was underprepared overall. The busted toe and banged-up knee were unfortunate, and the hotter weather pushed many other runners to the same decision as me. But I was not mentally and emotionally prepared to deal with these challenges on the day.
The ultramarathon is not easy, nor is it for everybody. If it were either of these things I'd be called "crazy" far less often. But the ultra is achievable if you're properly prepared - and in hindsight I did not give this challenge the respect that it demands.
For me, for now, the 56km Two Bays remains as a "what if" challenge. I will not be attempting it in 2020 (purely to give myself a break from training over the Christmas / New Year period for the first time since 2016) but there is unfinished business there for sure - and Two Bays is, really, so goddamned fun and attractive.
2021 perhaps? I should be able to put a big dent in the 28km course by then!
Cover shot: Dromana and Port Philip Bay, taken from atop Arthur's Seat on my outbound leg.