Just about every endurance runner has, at some time or another, been informed by a colleague that said colleague "doesn't even like to drive 30 kilometres, let alone run that far!" What's the threshold for the driving refrain being swapped out for, simply, "you're crazy!"?
The threshold is, I think, 60km. Everyone knows someone who has run a marathon, and many have heard of people running 50km, but I've never heard as much confusion as when I told people I was planning on running 60k's at Wilson's Promontory (I wonder whether I'd see heads explode if I ever overcame my lack of interest in the 100km or, god help me, 100 mile events).
After Mt Buller Skyrun in April, our little running posse had planned to run the Wilson's Prom 60k, part of the broader Running Wild Wilson's Prom 100k "festival." I have put that last word in quotation marks because organiser Paul Ashton's Running Wild events are very grass roots.
It'd be my longest distance run ever, my longest duration run, and likely the toughest mental challenge I'd ever faced: over its 60km of pristine coastal trail there was just one aid station, at the 45k mark, and exactly one "bail out" spot that would reduce the run to "only" 40km. Many trail races have aid every 8-15 kilometers so the self-supported aspect would be new to me. To commit to this race was to run head-first into the unknown, to run up to previously-found limits and continue running. Once I started, I wouldn't have a choice.
It was going to take a long time and it was going to hurt. I'd started experiencing some minor knee pain in the weeks leading up to the Prom, probably from over-striding on the long descents of the Mt Buller run so recently, so I was worried it'd hurt even more - but despite my concern pre-race it would prove to be a non-issue.
The start was at the unusually cruel time of 6am to help runners on the longer 100km course avoid spending too much time in the dark. Thanks to the remoteness of Wilson's Prom and our late accommodation bookings, a team of 8 of us from DCR had stayed overnight in a ranch house at Yanakie, just outside the national park gate. Our Mt Buller clan of Rob, Paul, Darren, Lachlan and I were joined by Jayden, Kate, and Jenny: aside from Jayden having completed a 60k previously it'd be the longest race any of us had attempted (Rob would, relatively late, drop to "only" 40km thanks to a nagging injury. Imagine that - dropping out of a race and only running a marathon instead!)
After arriving at Tidal River with Darren for check-in, gear check, and a romantic sunset stroll on the beach we met the rest of the gang in Yanakie for an oversized pasta dinner and nervous pre-race chitchat. Since running Buller only 4 weeks earlier I had only trained at a low load, with one moderately long run, instead treating myself to an extended recovery and pre-race taper. Despite any focused training I was excited and cautiously optimistic.
Having needed all of the mandatory gear in the recent Buller race, the only change I made to my strategy was to throw a jam sandwich in my pack to satiate the inevitable desire for "real food" I knew I'd encounter after a solid day of race fuel. I was as ready a I was going to be!
The 5am drive to the start line was less exciting than the entrance to "the Prom" deserves. We knew we were surrounded by prominent mountain lines and coastal views, and that the roadside was likely teeming with wallabies, kangaroos and the occasional emu. All of it went unseen in the ink-black predawn dark. After a chilly "hello" to our fellow runners, a brief bathroom break (helloooo, numerous toilets available at a race start!) and short race briefing we were off. With headlights bouncing, 8 close mates and 100 close strangers we jogged quietly down the main road to begin the climb towards Mt Oberon and Telegraph Saddle. The entire 60km race would be on trail, except for this 5km climb to the highest point of the race: a slow, grinding ascent on wet bitumen in trail shoes (which are great on dirt! Not so on wet bitumen...)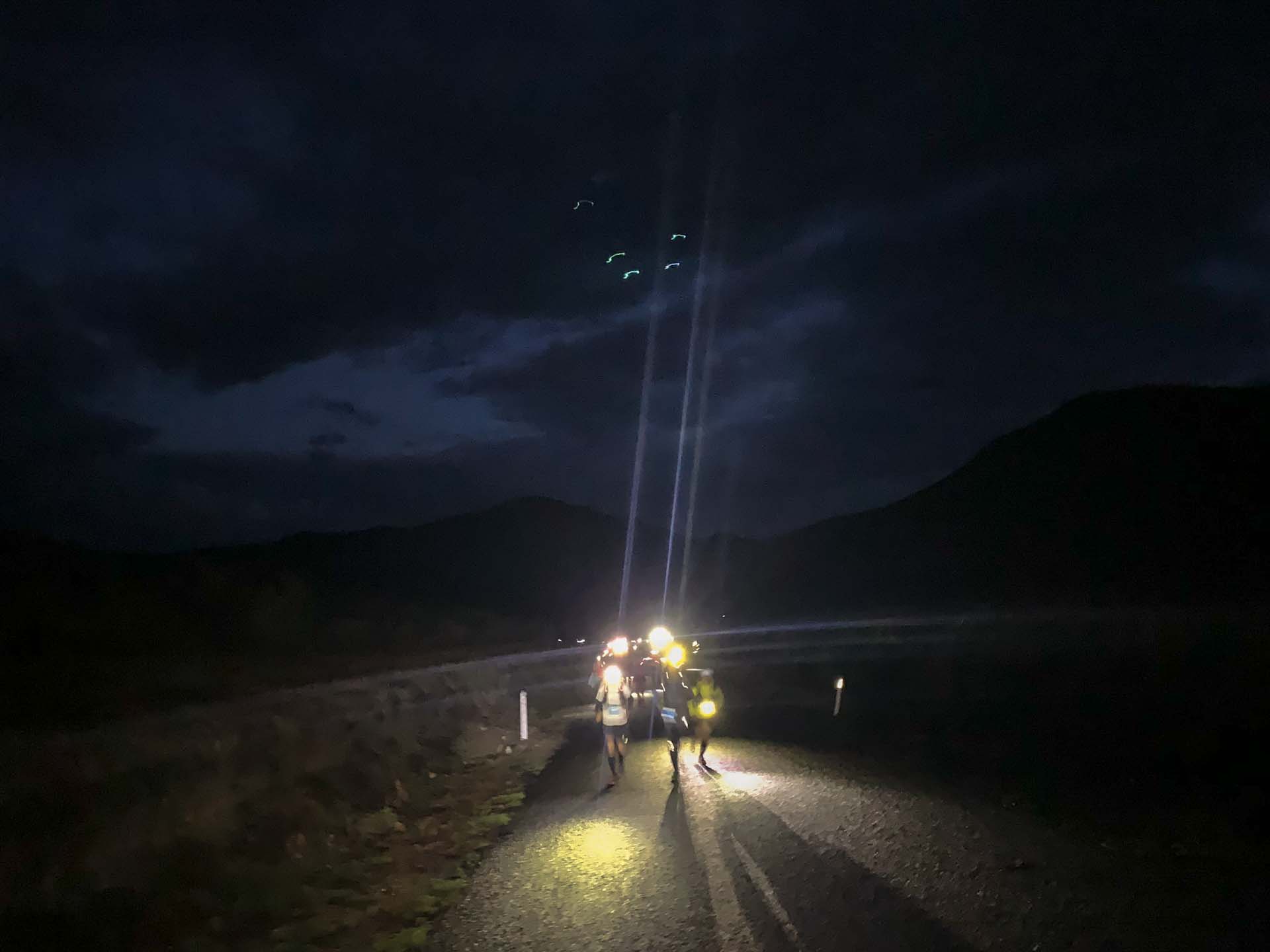 Photo: Looking back at the crowd during the dark climb to Telegraph Saddle
Our group of 8 quickly dispersed, and I found myself running relatively alone pretty early. Halfway up Oberon I began chatting with Ged, a friendly runner from Mt Dandenong, and the climb was shorter and better for it.
After reaching the end of the road at the car park, the race really begun: 55km more of wonderful coastal trail. Whilst I had hiked at the Prom before, I'd only covered about half of the race route - and in the reverse direction, at that. Virgin trail in the dark is spooky and utterly exhilarating.
The well-trod path would take us through dinosaur-age tree ferns and slippery mud, all the way to the campsite at Sealers Cove on the Eastern side of Wilson's Prom. Some light rain started just before dawn, so I stopped and put on my jacket (it'd come off and on all day) but otherwise just kept rolling along the trail trying to soak up the sounds and smells. The rising sun above Sealers Cove reminded me that I was running in one of Australia's most beautiful and unspoilt locations - the first of many such reminders that day.
Photo: Sunrise over Sealers Cove, seen from the trail on the descent from Telegraph Saddle
Just before reaching Sealers we had a few kilometres of boardwalk, designed to protect the swampy ground by forcing trail runners to slip over. I joined a group here and we plodded along, chatting occasionally, but generally moving a little slower than I would have preferred. The slippery timber boardwalk was just too hard to move quickly on, it seemed. The boardwalk would end for good at Sealers Cove, though, and give way to another challenge: sand and The River.
We'd been warned during the week prior that The River would be crossed at high tide, and we could expect to be wading through waist-deep water. Bloody brilliant! I'd packed spare socks and some Bodyglide to deal with things as best as I could, but I've got to admit I was a bit disappointed when we got to The River and it barely reached my ankles! Not too upsetting in hindsight, but we were ready for an adventure!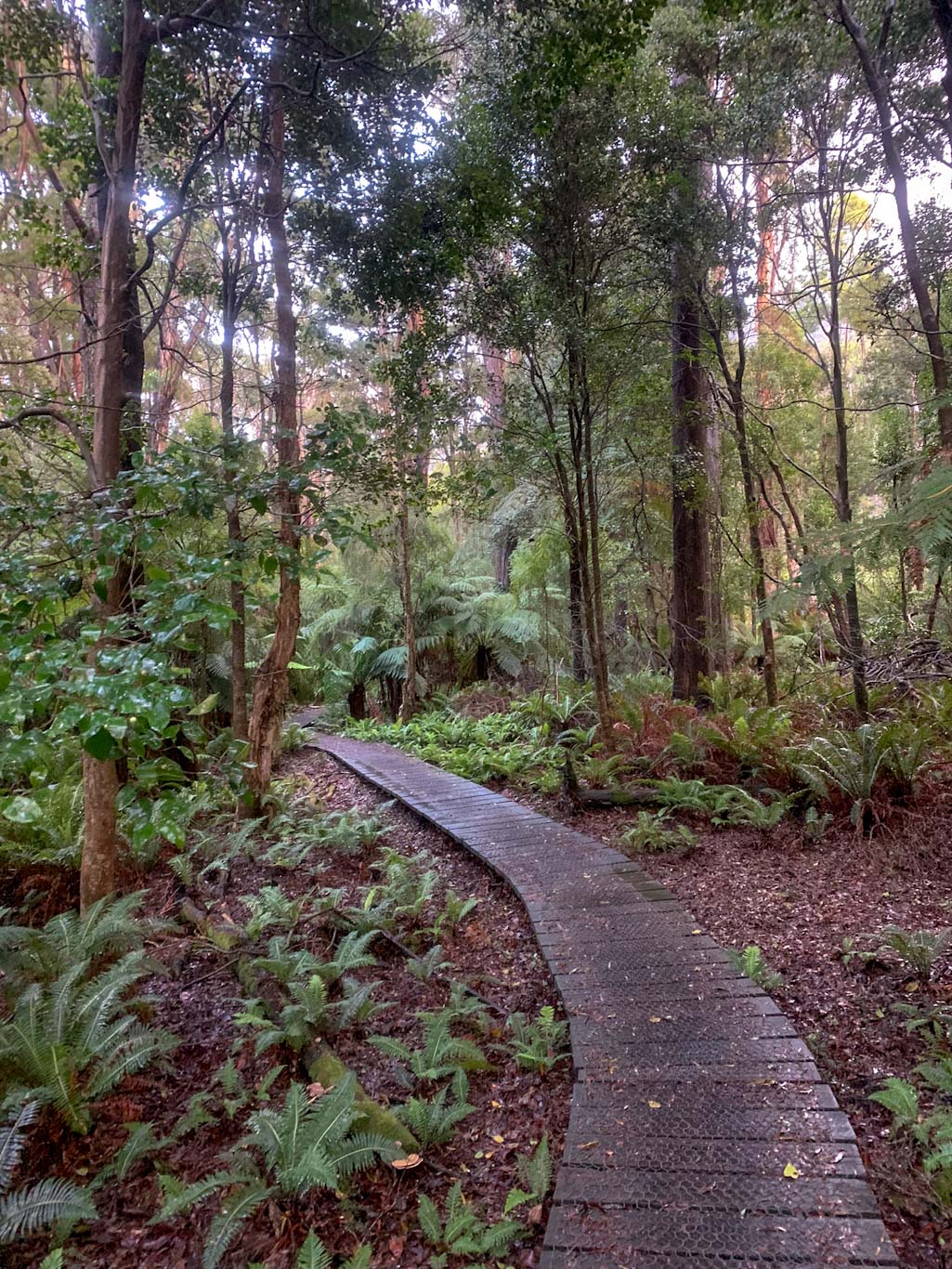 Photo: The slippery boardwalk on the way into Sealers Cove. Note the foliage, which I imagine would have been a tasty breakfast for some dinosaurs a few million years back.
After climbing out of Sealers Cove I started running with two lovely ladies - Ged, who I had met on the climb up Mt Oberon, and Kiwi-come-Aussie KP. We were all moving at a similar pace and ended up running together and chatting for quite some time which certainly made the miles disappear with ease! Ged even entertained us with a perfect 10/10 somersault as she tripped on the way into Refuge Cove! Luckily there were no injuries and we could all carry on, although she did drop off our little group soon after to run at her own pace.
At each campsite I stopped to refill my bottles, having realised the water was readily available and nice and cool. This was much easier than keeping my 1.5 litre water bladder full (and heavy) and despite the warning signs protecting Parks Vic from legal action the water was quite perfect. The weather refused to make up its mind, leading to regular stops to change into or out of my jacket, but despite these small stops the trail was just perfect. Each bay brought new views of crystal-clear water and coastal cliffs, and since the Proms hiking paths are punctuated by these bays and campsites, each one brought us past the big mental checkpoints of the run.
Just before the halfway point we ran through the Little Waterloo Bay campsite, and I had a little chuckle at the thought of my only hike at The Prom about 10 years ago where good friends Rob and Kat woke up with their tent completely surrounded with water, like their own little moat. We'd set up camp in the dark the night before, and Rob managed to pick a low spot. Looking around today I'm surprised that Lauren and I missed a similar fate, as there wasn't a flat spot in the entire campsite!
We dropped down onto the beach at Waterloo Bay for what would be one of the longest sandy stretches of the entire run. At the start of the beach section was the turnoff for the 40km course - to take another step on the beach would commit me to the 60km course, with the only way out being forwards.
Showtime.
Soon after, KP and I were joined by Damien, a previous running buddy of hers, and in our new threesome hiked along the sand wondering which of the high ridges in front of us we'd be climbing (answer... all of them) as a perfect double rainbow appeared over the beach. Running in the rain does have some benefits!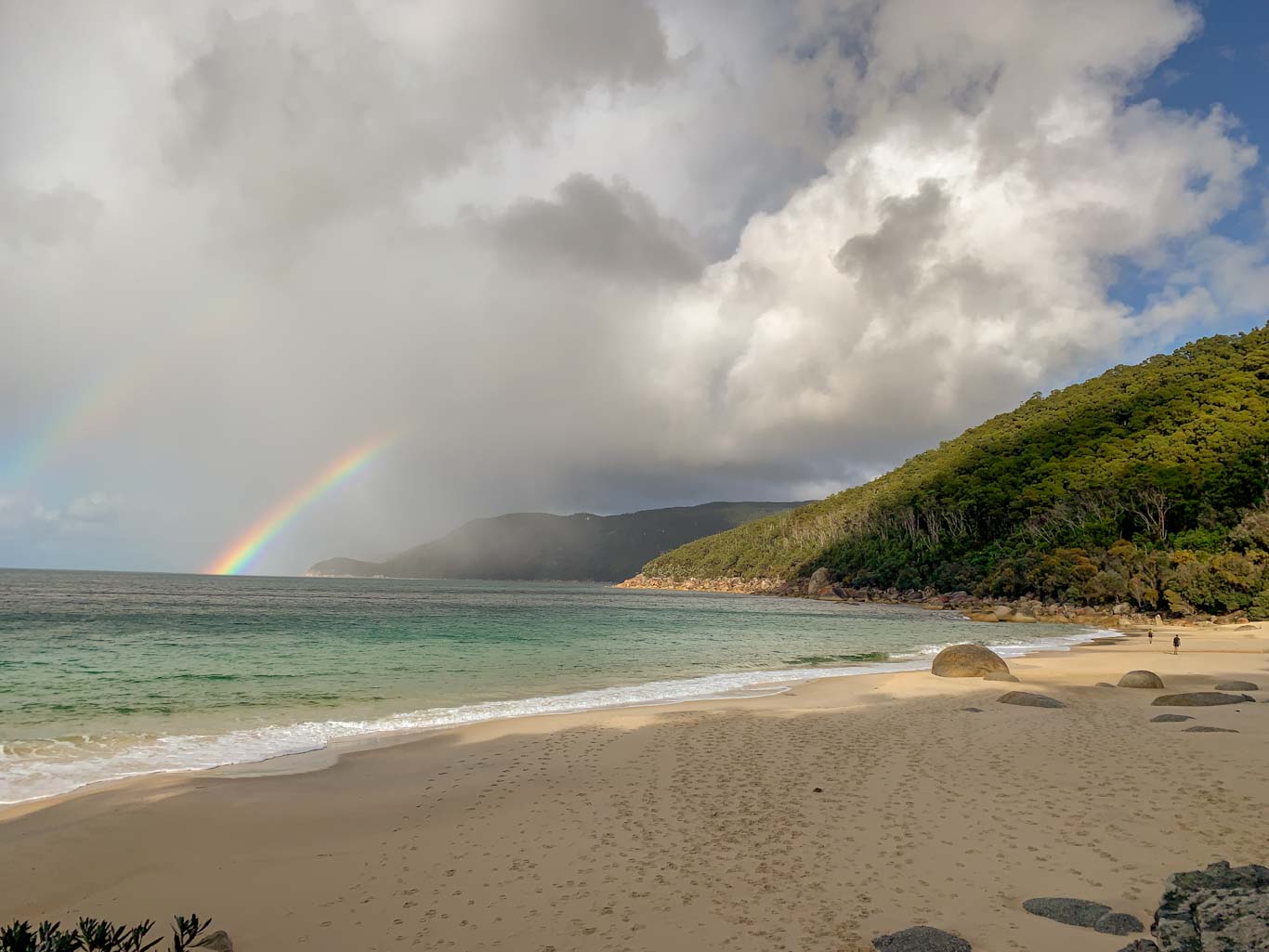 Photo: After passing the 40km course turnoff, we were committed to the 60km run and quickly got rewarded with a double rainbow over Waterloo Bay.
The end of Waterloo Bay brings the second big "hill" of the Wilson's Prom 60km, a steep and seemingly never-ending climb to the bluff between the bay and the Lighthouse. Damien was fading a little at this point and KP was running strong - near the top of the climb she pushed ahead as Damien and I kept plodding along. She ultimately finished about 30 minutes ahead of me, and even carried her kids for a few hundred metres at the finish! What a champion.
When the lighthouse finally came into sight I got really excited for the first time since the start line. The lighthouse is the southernmost on mainland Australia, the destination of an iconic multi-day hike, and it'd been on Lauren and my collective "must do" list since we first met back in our scouting days. I was finally close to getting there, and it's stark whitewashed walls were standing out in the sun from far away - you could almost say it was a shining beacon, guiding us on our way :)
My energy was waning here, with the lighthouse in sight but still a way off. I'd learnt long ago that a loss of energy in ultrarunning was almost always due to lack of calories. I needed to eat, but with my jam sandwich on board I had decided to wait until reaching the lighthouse to stop and treat myself. In hindsight this was my first of only two mistakes of the day and it probably cost me half an hour as I slowed down, walking more than needed, accruing an energy and time debt that would prove impossible to repay. Damien had run low on water at this point, so we were both on a mission to reach that damned lighthouse.
At the base of the steep concrete path that climbs to the lighthouse I bumped into Darren, who was on his way back down. He'd rolled his ankle on the approach to Sealers Cove, but was looking strong. We had a brief chat and took a selfie, then continued on our respective journeys.
At the lighthouse I became quietly emotional. It truly was an awesome place to visit after dreaming of it for so long; I instantly resolved to bring Lauren and our boys back (hopefully it won't take another 20 years). I knocked on the door of the lighthouse, took a few selfies, and stopped to refill water bottles and eat my jam sandwich. Suddenly I'd spent 10 minutes standing around and cooling down... mistake number two. Oops. After repacking my pack I was back on the road, just a half marathon to go.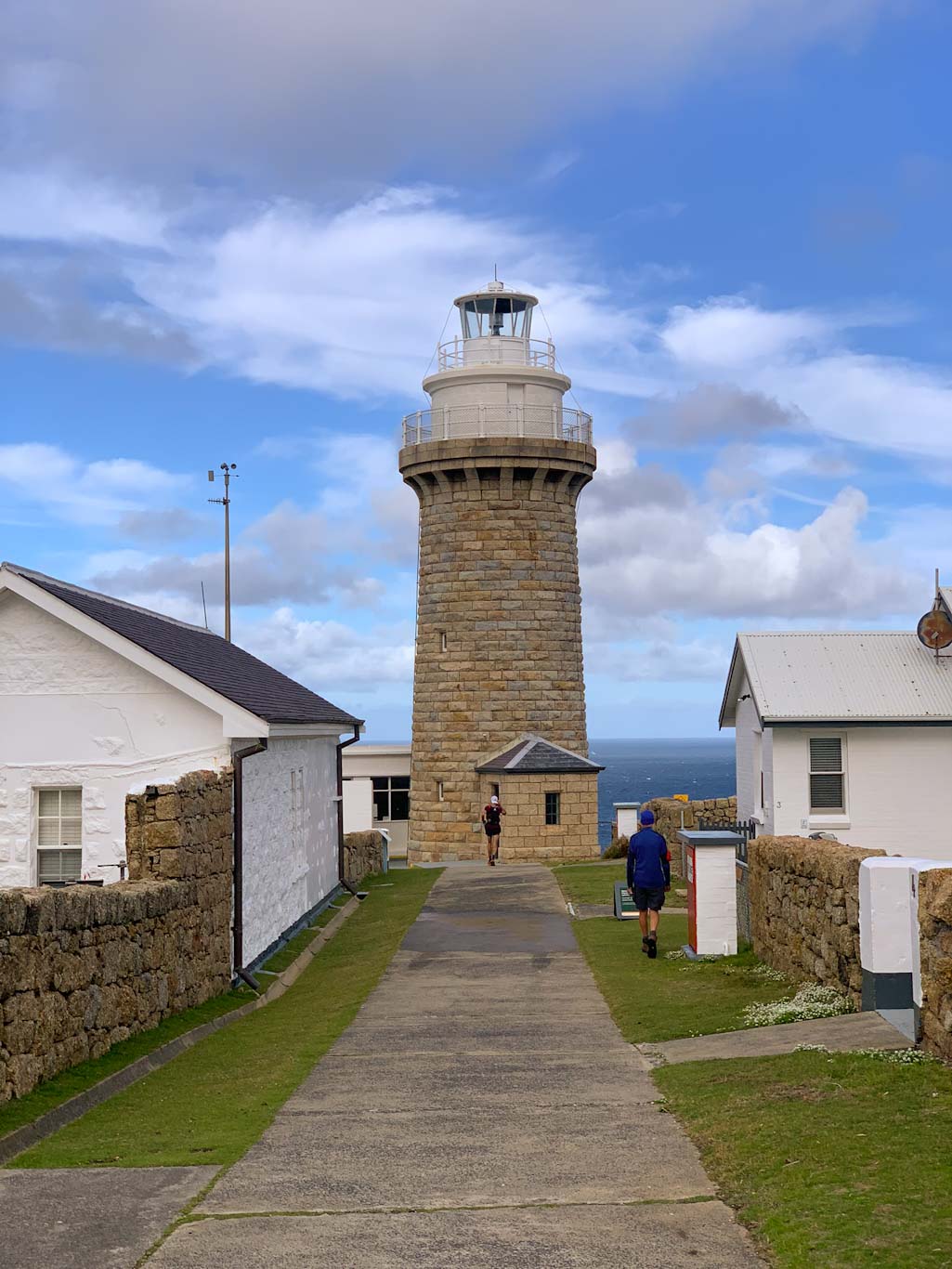 Photo: The Lighthouse, Wilson's Promontory. It took me almost 20 years to get here - it seems all it takes is a 10-hour run.
Although I was happy to have taken on some real food, my guts weren't. In a greedy moment of weakness I ate too much too quickly, and the inevitable cramps caught me pretty quickly. After my earlier stop to chat with Darren, Damien had pushed on ahead (and hadn't wasted 10 minutes at the lighthouse) so I was now running solo with a sore stomach and I struggled more than I expected. Passing through the Roaring Meg campsite I started listening to some podcasts, charged my running watch, and hiked onwards for some of my slowest miles of the day.
After reaching some high single trail in the windswept scrub my mood improved and I picked up pace again, and eventually reached the Parks Vic maintenance road in the "middle" of the promontory. With a longish gentle downhill it was nice to start moving easily again. Paul caught up to me here, I put away my headphones, and we ran the rest of the race together. The view from the road across the marshy swamp to Oberon Bay were spectacular, and I felt like the finish was in reach - even if 10km away - as I was in a familiar area once more.
We reached the one and only aid station on course (chips! oranges! coca-cola! other humans!) and set off down the sandy road towards Oberon Bay. In our tired state I didn't even realise there was a firm walking trail beside the soft sandy road. Doh. We caught up to the on-course photographer, then suddenly found ourselves out on the open expanse of Oberon Bay.
With wet feet from our final river crossing Paul and I made our way through the tough final 8km. There were penty of small climbs, and whenever it felt like we could start running again we would be slowed down by steps or rocks that sore legs couldn't swiftly move over.
I wasn't overly happy here, over 50km into the day. I was probably overly hungry, in hindsight, but poor Paul took the brunt of my grumpiness. My watch was predicting a 9:59 finish, and I was overly fixated on achieving that sub-10-hour finish.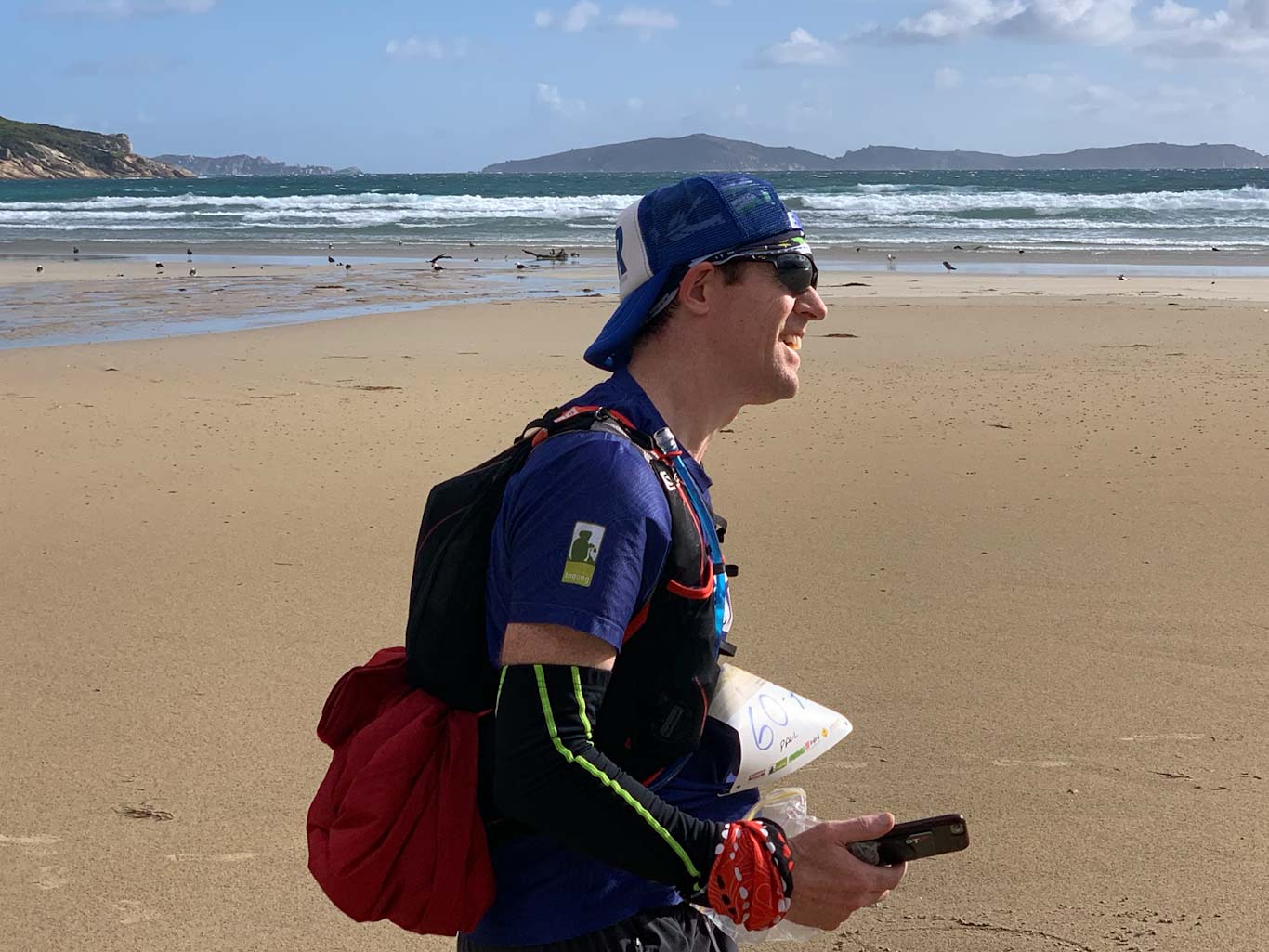 Photo: Superstar runner Paul on Norman Beach, still smiling despite my grumpiness!
Finally we reached the last few kilometers of the race: the long firm sandy stretch of Norman Beach leading up to Tidal River campsite. We felt quick and even commented on how fast it felt to be moving on flat smooth earth again - it turns out we were only moving at 8 minute kilometres, hardly faster than a brisk walk! Amazing what 58km of running will do to your body and mind...
With cheers from random holiday makers we made our way into the Tidal River campsite, stumbled through the finish arch, and received our "medal" - our choice of either a Freddo Frog or Caramello Koala. I'm not a simpleton so opted for the rich gooey texture of the Caramello, took a photo of my prize for prosperity, and rushed to change into some warm clothes.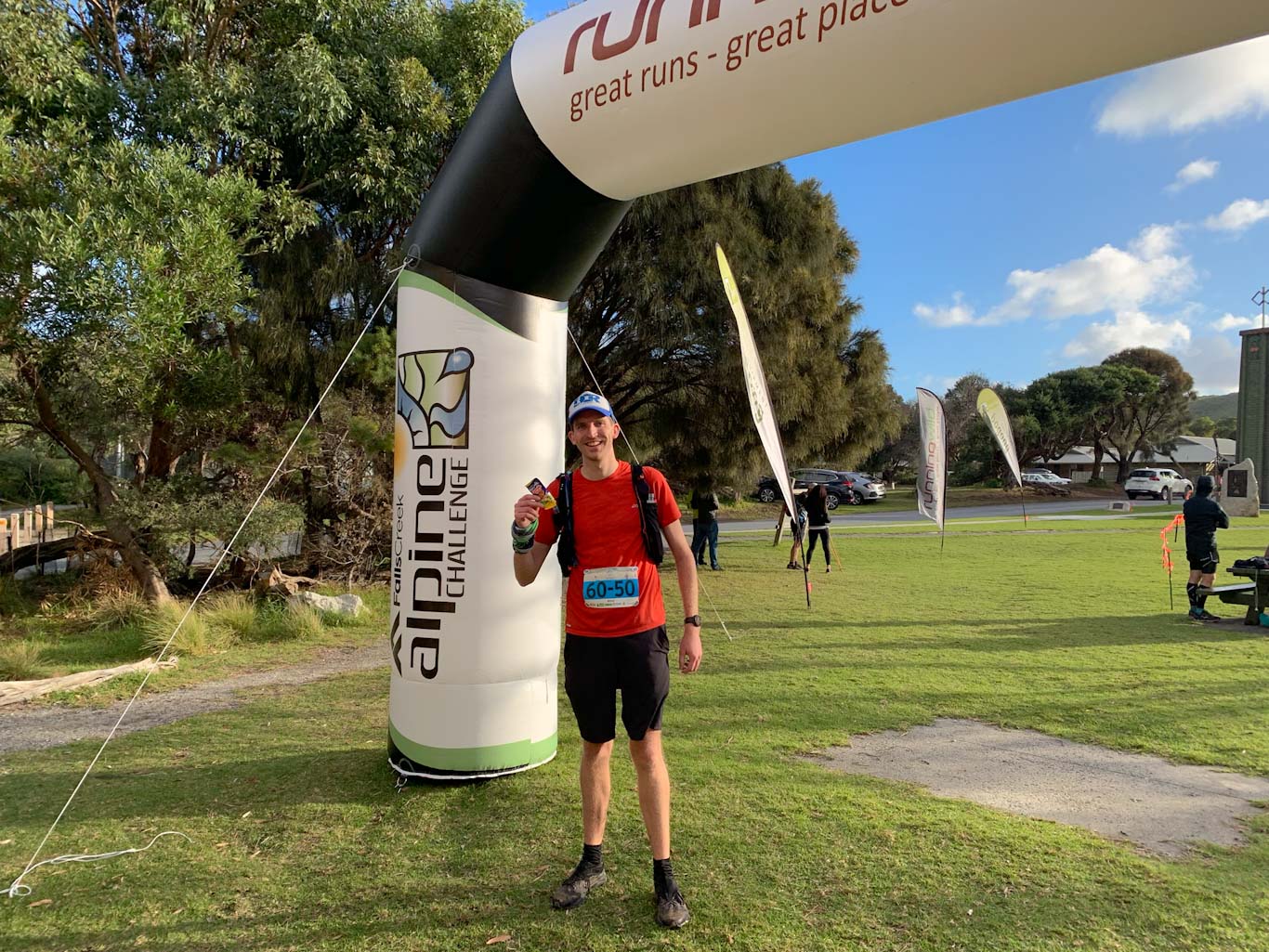 Photo: At the finish line - with my hard-earned Caramello Koala!
With a hot spring roll and cold chocolate milk, I phoned home then returned to the finish area to join my comrades in waiting for Jenny and Kate - although thanks to my perpetual poor finish line timing we moved inside some shelter, missing their finish just moments later. Doh!
Back at our base in Yanakie we sat down to share drinks, war stories, and dinner - although found it quite sufficient to just eat cheese and salami instead of a proper meal. I figured that after running for 10 hours straight the type of calories you eat don't matter, do they?
Jenny shared with us a magnificent gift of home-made medals, each one containing a handwritten motto unique to the runner. My bottle-opener medal was marked with the always-popular #fuckyeahmountains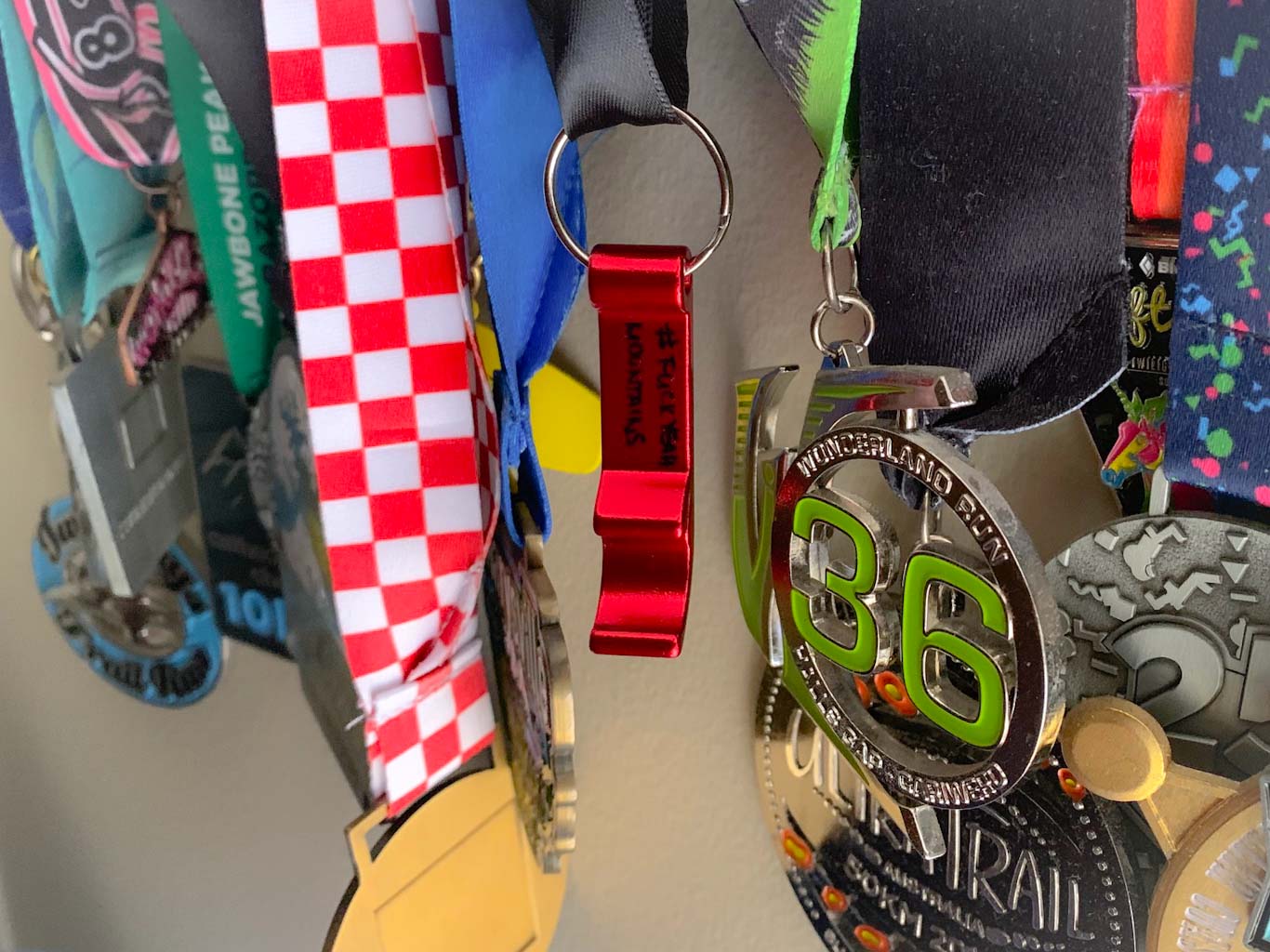 Photo: My #fuckyeahmountains medal, thanks to Jenny, hangs with pride next to my other race medals.
After a a team breakfast in the quirky country town of Meeniyan, I arrived home to share my prize - that much-valued Caramello Koala - with my young boys, who have no idea how much work went into earning such a small chocolate!
---
Wilson's Prom is truly one of Australia's most beautiful places, and to race there is incredibly special. I've visted "The Prom" a number of times as a kid and now as an adult, and it never ceases to amaze me with it's remote and rugged beauty.
I had wanted to touch the door of that lighthouse for almost two decades, and to me it's worth 60km of hard work to do so. I learnt plenty about myself during this race but the clearest one to me was that, for now, I have zero interest in running 100km or beyond.
So would I rather drive 60km to a lighthouse than run to it? Nah. Where we're going, cars aren't welcome.
Vital Stats
Race: Wilson's Prom 60m
Date: 4th May, 2019
Distance: 60km
Official time: 9h54m01s
Elevation: 1,910 metres gain / loss
Strava activity: https://www.strava.com/activities/2339983012
Header image: Running onto the beach of Waterloo Bay at the Wilson's Prom 60k race. Photo thanks to Paul Ashton and The Eventurers