"Who is running the 45km course tomorrow?" asked Paul Ashton, Running Wild race director. From our dinner table in the corner of the Abom bistro our hands nervously went up. "It's a brutal course!" he continued agrin. Paul's mandatory gear lists are known for being overy thorough (or onerous, depending on one's point of view) and he continued to list out the risks we would be likely to encounter on on our 'fun run':
Extreme cold weather. We were standing at one of Victoria's most popular ski resorts, after all
Extreme hot weather. We were standing almost 2km closer to the sun than usual, after all
Snakes. Multiple snakes had been sighted in recent days, and a snakebite bandage was mandatory. Carry two, Paul suggested, so we could deal with the wounds of our own and those of the snake. Very thoughtful.
Horses. Trail riding groups were likely to be in the area, so we should be careful to avoid startling horses.
Mountain bikes. The weather was perfect for flying downhill on two wheels at an insanely fun speed.
Wasps were hanging around the Mirimbah aid station and likely to be a risk.
What the fuck were we doing?
I was at our second attempt at the Mount Buller Skyrun, held each Autumn at the Mt Buller ski resort in Victoria's high country. In 2018 we ran the 36km course as part of our preparation for the UTA50km, and now in 2019 we were back to tackle the 45km course. It was my first event after my implosion at Two Bays Trail Run in January and I was nervous. The 36km was a difficult run, and this year we'd still get that familiar 10km quad-busting downhill and 10km soul-destroying climb of 1,000 metres from Mirimbah to the summit of Mt Buller.
My only-half-joking comfort was that the 35km mark, which is where I withdrew from Two Bays, would be midway up the Mirimbah climb and in a location where I had no choice but to push forward. The prospect of a 1,000m climb with 30km in my legs was scary as hell - but I knew I'd done the climb before and I knew it was achievable if I could stay on top of the stories in my head.
The 45km course included the highlights of last years' 36km run: starting from the Mt Buller village, we traversed to the top of Mt Stirling, descended along the Delatite River to Mirimbah, climbed the tedious Klingsporn Bridle Track back to the ski resort, climbed a ski run and the summit road to the Mt Buller Summit, then returned to the ski village via ski runs and walking trails.
This years' 45km option included an additional out-and-back leg from the summit of Stirling to Craig's Hut, the iconic mountain hut built for the 1982 film The Man From Snowy River.
---
Our UTA group was still going strong, and the four of us (plus 2018 addition Rob) had loosely decided to run a trio of events in 2019: Mt Buller Skyrun 45km in April, Wilson's Prom 60 in May, then something something Surf Coast Century 100km in September. Whilst I wasn't yet sold on the 100km, the first two events sounded perfect.
Unlike last year I had not decided on an "A race" for 2019. I was happy to go with the flow and just try to enjoy the events that we ran as a group, so my training load hadn't been too high before Mt Buller. My longest run was 33km, and I'd had a bunch of weeks with 45km+ of running, so I felt I was ready for the run even if I wouldn't be running at my absolute peak.
We arrived at Abom Cafe at Mt Buller late on Saturday afternoon. We checked into our room (dealing with a couple of muddy beds - what the??), undertook mandatory gear check, ate dinner, and listened to the not-at-all-scary wasps, snakes and horses race briefing.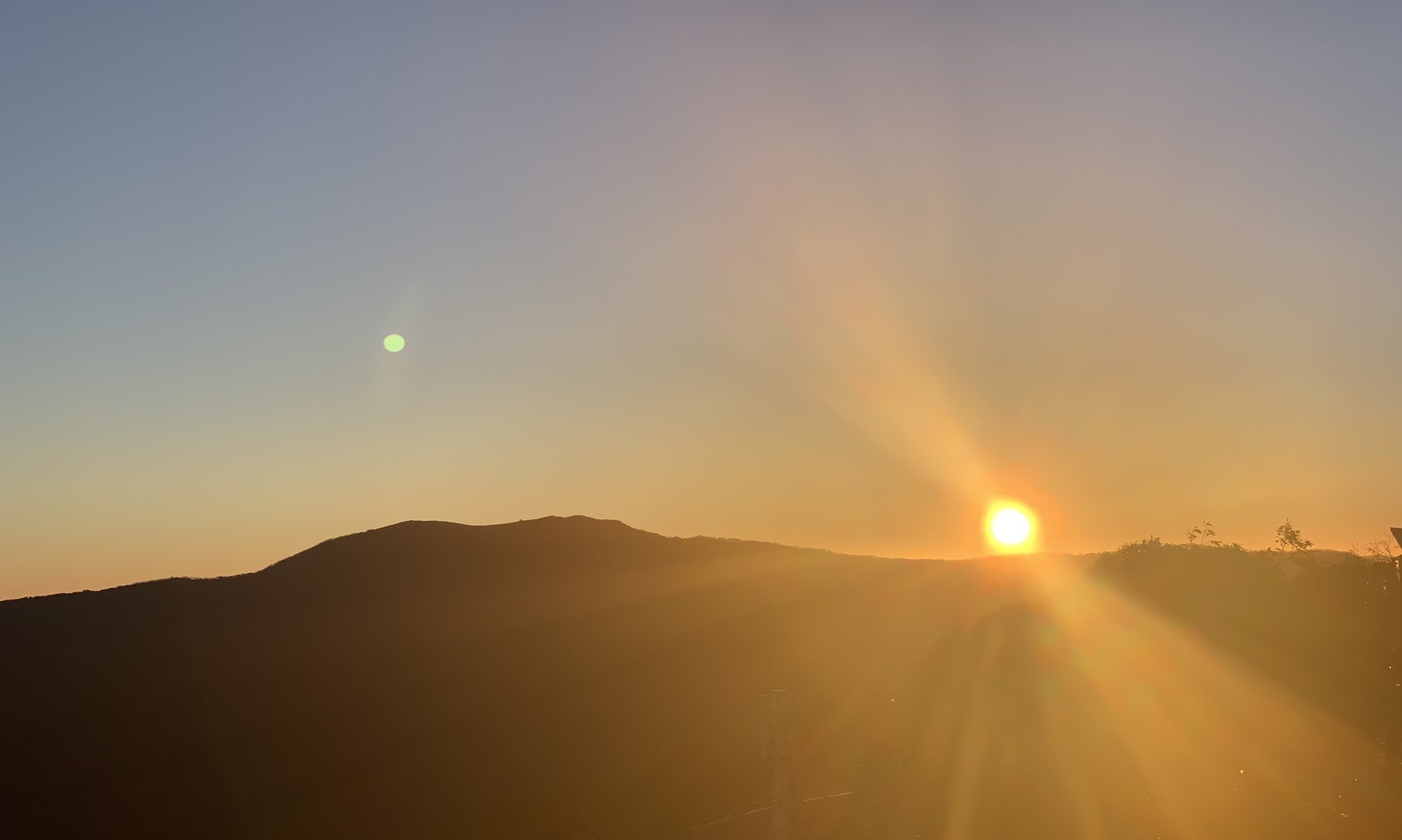 Photo: Sunrise on race morning, from Mt Buller resort. #fuckyeahmountains
Come Sunday I rolled out of bed, forced down an early breakfast, walked the 100m to the start line, and set off into the wind.
It felt great to be moving freely on the wide trail leading out from the Mt Buller Ski Village. Dropping onto the first stretch of single trail, some mountain bike trails heading towards Mt Stirling, I got that awesome lungful of mountain air that sent my eyes and nose into overdrive... mountains are bloody great but snot central isn't so much fun!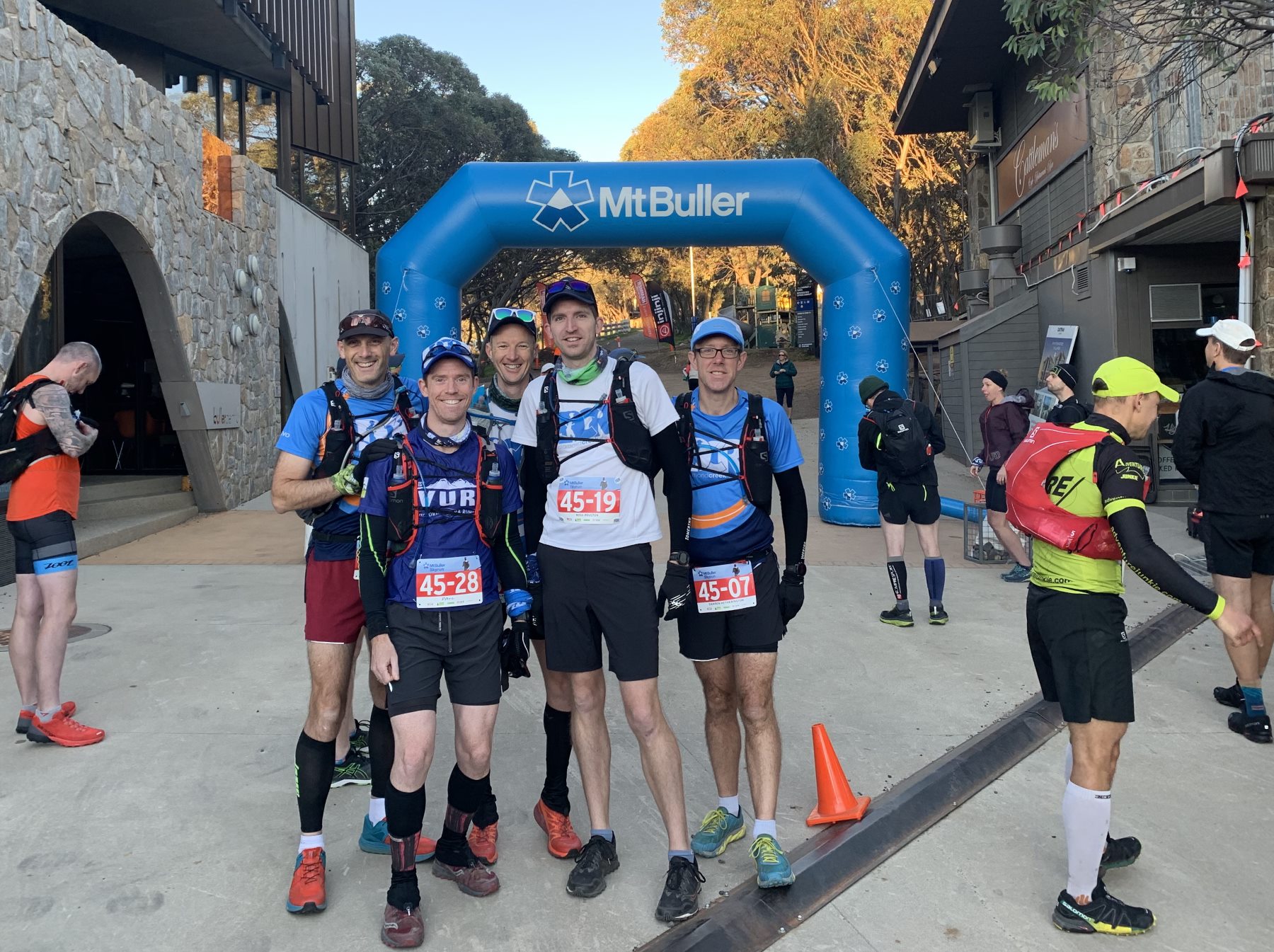 Photo: Mt Buller Skyrun 2019 start line. L-R: Rob, Paul, Lachlan, me, Darren. Smiles all around!
I was on familiar trail. The 9(ish)km run to the Mt Stirling summit is mildly challenging and presents some fantastic alpine views. Breaking above the treeline onto an alpine summit is such a satisfying part of trail running. After After summiting Stirling and grabbing some fruitcake at the aid station, Paul and I set off for Craig's Hut. Rob was slightly ahead, with Lachlan and Darren running strong further ahead.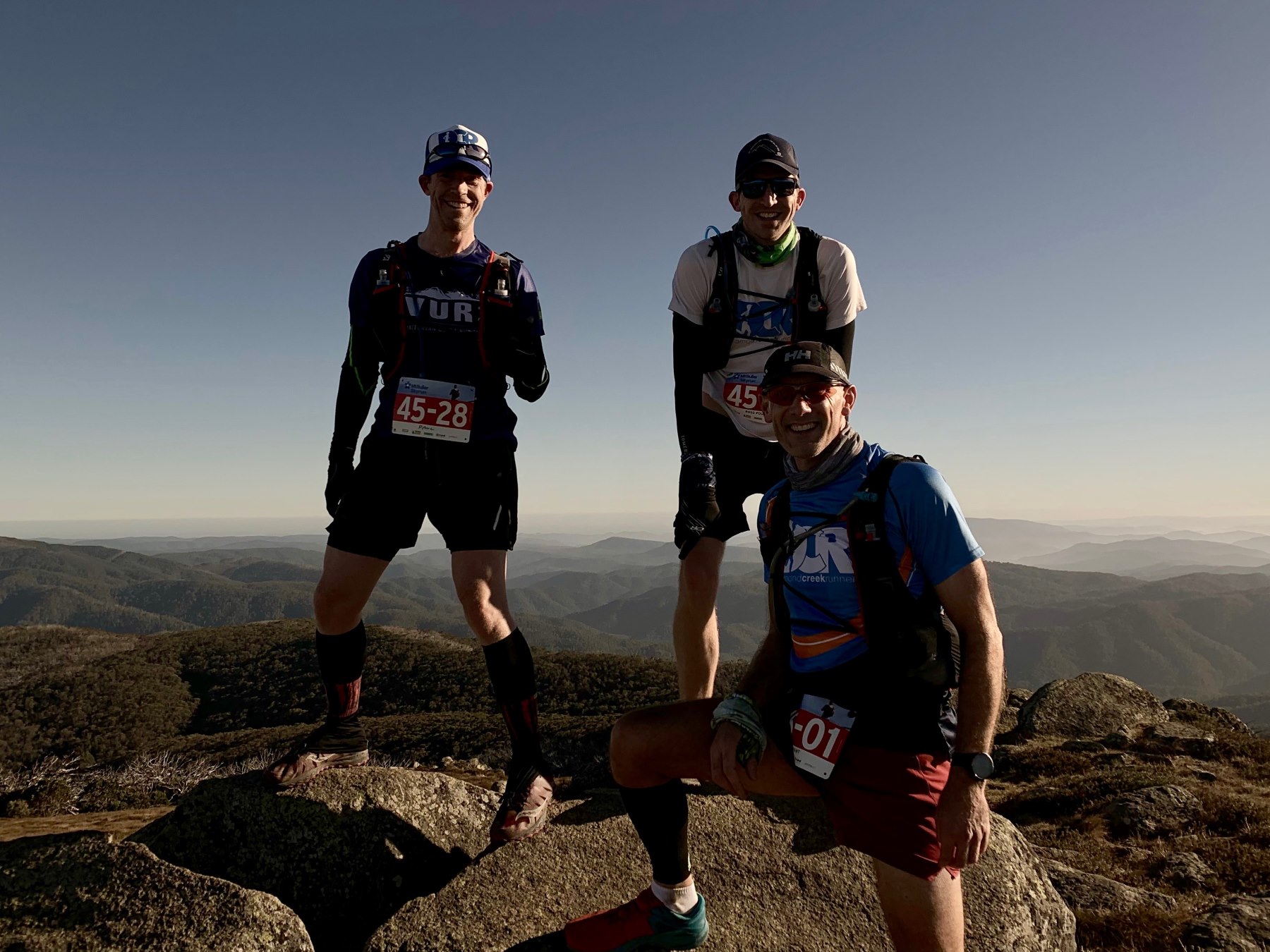 Photo: Intense sun and smiles at the summit of Mt Stirling. #fuckyeahmountains Paul, me, and Rob.
The trail to Craig's Hut reminded meof the prior nights' opening comments: it was brutal. Whilst looking almost flat on an elevation map, the trail constantly undulates with short sharp climbs and drops. The trail is made worse by semi-regular 4x4 use, with plenty of ruts and loose rocks to keep you guessing. I've got to be honest: this was not a fun part of the run.
Arriving at Craig's Hut was pretty amazing. The sun was out, the grass was green, and the view of the "historic" (not historic, it turns out!) hut overlooking the valley was amazing. I stopped for a few quick photos then turned around for the tedious leg back to Mt Stirling.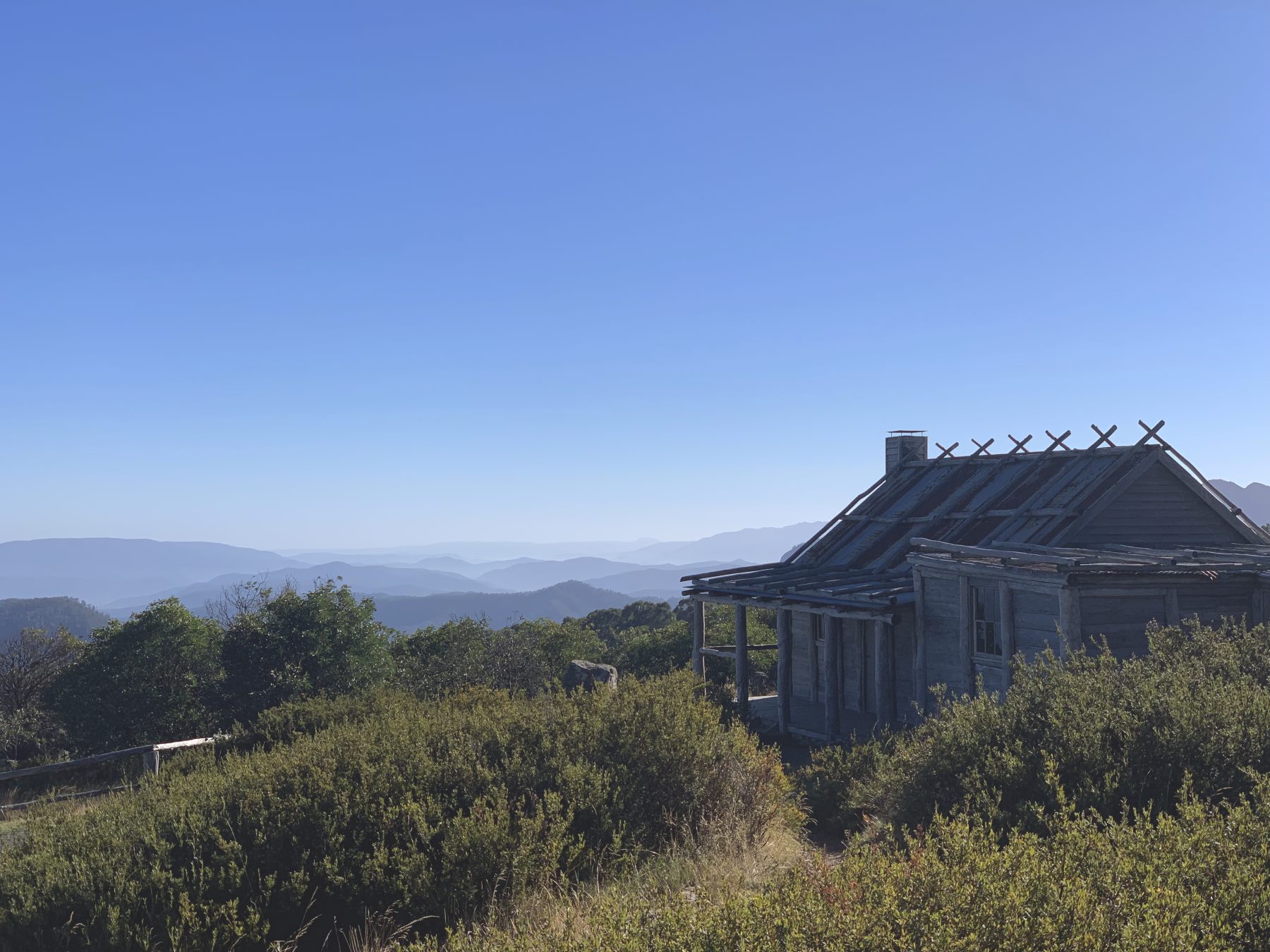 Photo: Craig's Hut, Mt Stirling, set of the 1982 film "The Man from Snowy River"
Dropping off Mt Stirling is a whole bucket of fun. From the summit at 1,749m ASL you follow a horse trail, some mountain bike trail, and single track along the sides of the crystal-clear Delatite River. There are 14 "bridges" - huge trees pushed across the river - that zig-zag you down to Mirimbah (660m ASL), over 1,000 metres below your starting point. It's a 10km run and if you're not careful your quads get punished rather badly.
During the descent I slowly lost sight of Rob as he powered ahead, but Paul and I ran on together. Overall, the segment from summit to Mirimbah was the only leg of my 45km run that was slower in 2019 than 2018. Part of the reason for this was a 5-minute wait when we came across Babi, a runner struggling with leg cramps. We shared some food (Paul lending her salt tabs, her sharing some incredibly tasty fresh pineapple!) before we moved on to the Mirimbah aid station. This small delay didn't make that much of a dent in our descent time - I think general concern for the wellbeing of my quads really slowed me down during the earlier, steeper parts of this section of the run.
After a short break at the aid station to refill water bottles, enjoy some coke and watermelon, and repack bags Paul and I were ready for what we knew would be the least enjoyable part of the event: Klingsporn Track. This 10km climb, barely wide enough for a pack horse and bound to be full of perfect spots for snakes, was the inevitable result of having just run downhill for 10km: in 10 short kilometres we'd climb over one vertical K to the summit of Mt Buller.
On the Klingsporn Track in 2018 we had all suffered in our own ways. We'd had issues with hydration and nutrition, and mental challenges with sore bodies. I was adamant that I wouldn't suffer in the same way in 2019 despite my legs having an additional 9km in them. I took on some extra calories during the early part of the climb then maintained regular food and water intake all the way up.
Additionally I was wary of stopping too regularly, so Paul and I decided we would take some rest stops but only once we passed the 40 minute mark. This gave us a goal to march towards, but it only made things marginally easier!
Klingsporn Track flattens out, kind of, after reaching the aptly-named "Thank Christ Corner". The relief is subtle but real, and after this point I was able to get back into a jog / walk towards the base of the Northside chair lift. The climb from Mirimbah to here was 1h50min, a 10-minute improvement on 2018. I felt good but couldn't move any faster, continuing my jog / walk to the summit of Buller.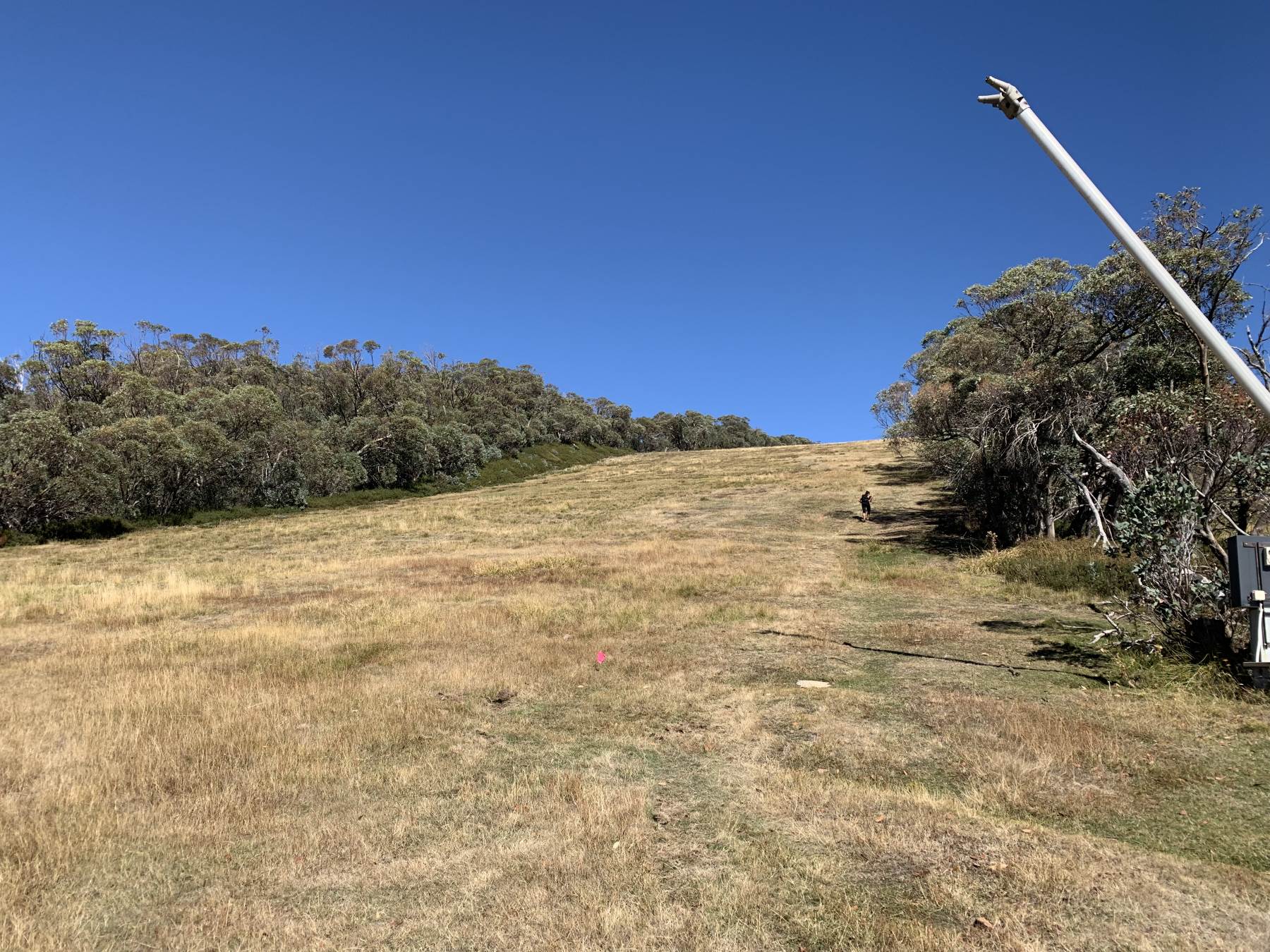 Photo: Northside Express ski run. Back in the ski resort but lots of climbing to go... ski runs are great to ski or board down, but pretty shit to run up!
Just as I was about to reach the summit cairn (41.5km mark - 3km of sweet downhill to go!) I passed Rob, coming back down towards me. It was great to see a familiar face and know we were both so close to home. On my own trot down from the summit I passed Paul, who had needed a quick "pit stop" trailside somewhere after Thank Christ Corner.
I was just about home. The last few km drop from the Buller Summit to the middle of the Buller Ski Village, following walking trails and crossing ski runs underneath the abandoned ski infrastructure. Ski resorts in summer are such odd places, reminiscent of a mid-20th century soviet farm with winter-only detrius spread around like it was left there after a battle.
Thankfully the course had been changed a little due to building works, so we did not need to run down the Bourke Street ski run as we had last year. The long grass, drainage ditches and rocks make for very uneasy running so the trail option was greatly appreciated. I managed to catch Rob, then lose him again as he pulled away to beat me home by 20 seconds.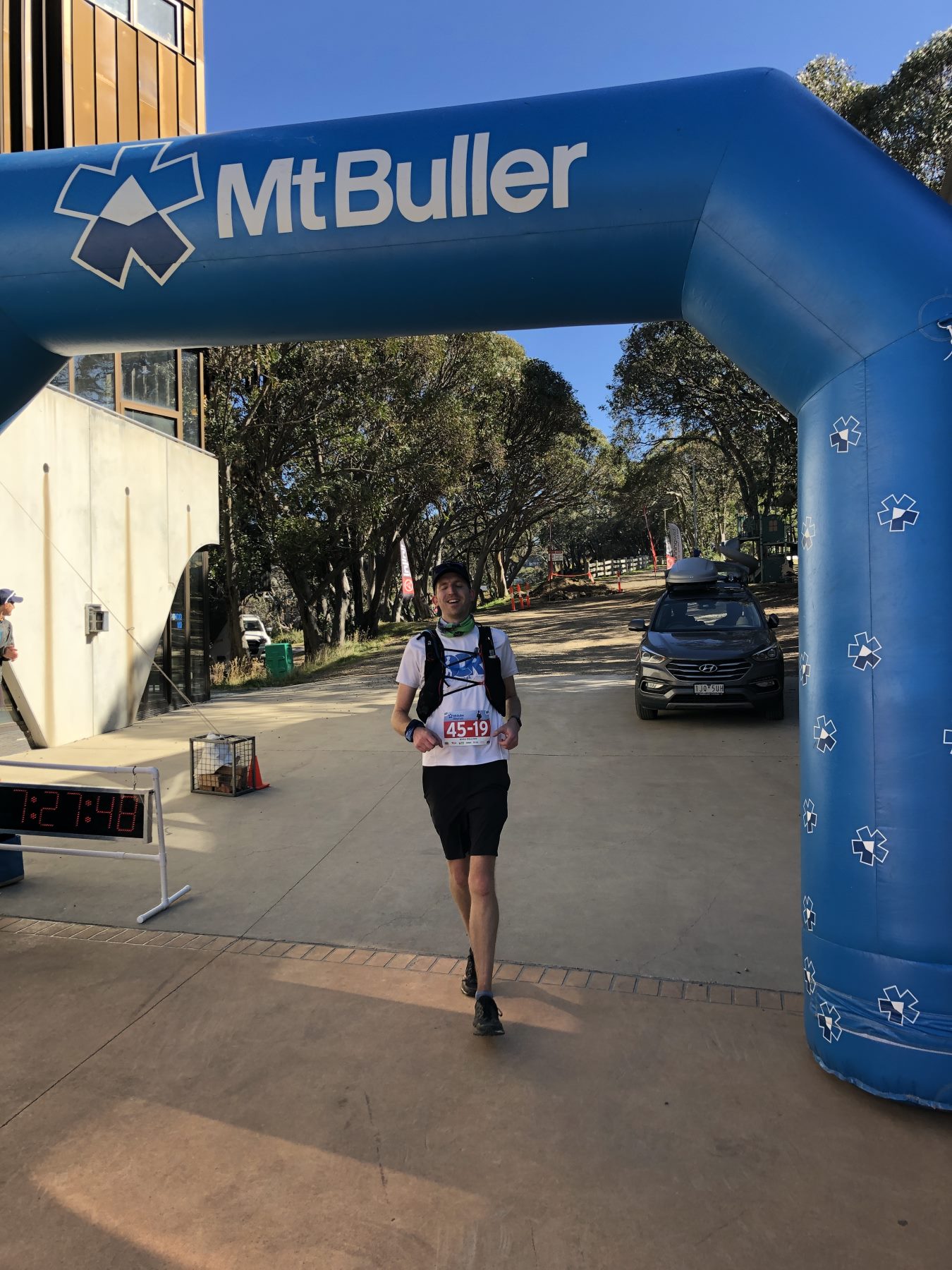 Photo: Crossing the finish line (with some relief in those closed eyes!) in 7 hours, 27 minutes. Thanks Darren H for the photo.
In all I was very happy with my run - 7:27 for 44km is a long time to be on your feet but with 2,200 metres of climbing these things are to be expected. Darren had raced perfectly, finishing an hour ahead of me, with Lachlan 10 minutes behind him. After finishing I went to the general store for some food and drink, and it's here my "ultra maths" failed me: unfortunately I'd misremembered the time difference between Paul and I back at the summit and as a result completely missed his finish about 10 minutes behind me. Note to self: don't leave the finish line when your mates are still out on course!
A short stop at the Mansfield pub for pizza and beers (I've never seen 5 large pizzas disappear so quickly!) and it was time to go back to the real world.
---
With the 36km finish in 2018 and a greatly improved time in the 45km distance in 2019 I'm happy that I've "done" Buller. It's a great area to run, and nothing at all beats the feeling of running above the treeline in the alps. March/April is a busy time of year on the running calendar, with multiple big races on most weekends, so I'm going to carry my #fuckyeahmountains energy into this part of 2020 by doing more mountain runs elsewhere in the state.
On top of this, finishing the 45km course after blowing up at Two Bays Trail Run in January gave me the mental relief that yes, I can actually do this. Yes, I can finish another ultramarathon. Yes, I can conquer some big fucking mountains and smile while I'm doing it.
So where does this leave me? 45km is close enough to the 42.2km that some might chalk it up as another marathon finish (some define "ultra" as 50km+). That'd mean I've done 4 marathons and 1 ultramarathon. But screw them - 45km in the mountains is a bloody ultra if you ask me - so I'm calling it ultramarathon finish #2 (and "only" 3 marathons).
Four short weeks after Mt Buller is the Wilson's Prom 100 trail race, also organised by Paul Ashton. We're all fronting up for the 60km for what should be some more epic scenery.
I'm feeling good, my body's feeling good, and there's a whole lot of unexplored trail out there. Time to go and test myself on some of it.
Vital stats
Header photo: coming down from the Mt Buller Summit, 3km to go! With thanks to Paul Ashton and The Eventurers.
Correction 23/07/2020: Over a year after publishing this article Lachlan bought it to my attention that I did not in fact run to Mt Feathertop - a round trip of 130km - but instead traversed to Mt Stirling. The author regrets the error but wishes to point out that Lachlan also missed the mistake in earlier reads of the article 😂