As I've done in the past (2016, 2017, 2018, 2019, 2020, 2021) I have put together a rear-vision-mirror view on my year in running.
I think, like many people, I was hoping that 2022 would be a bit of a refreshing year after two years of Covid-related lockdowns and general world stress. Unfortunately I replaced Covid-stress with Other-stress and ended up having a pretty average running year.
I did run a few events, and reached the same mileage as 2021 (1501km distance covered, 29,764m of elevation gain). The second half of the year was, mostly, absolute garbage until I pulled my socks up in December to ready myself for 2023. The events that I did run were all events I'd tried in the year before. This gave the whole year a bit of a deja-vu feel.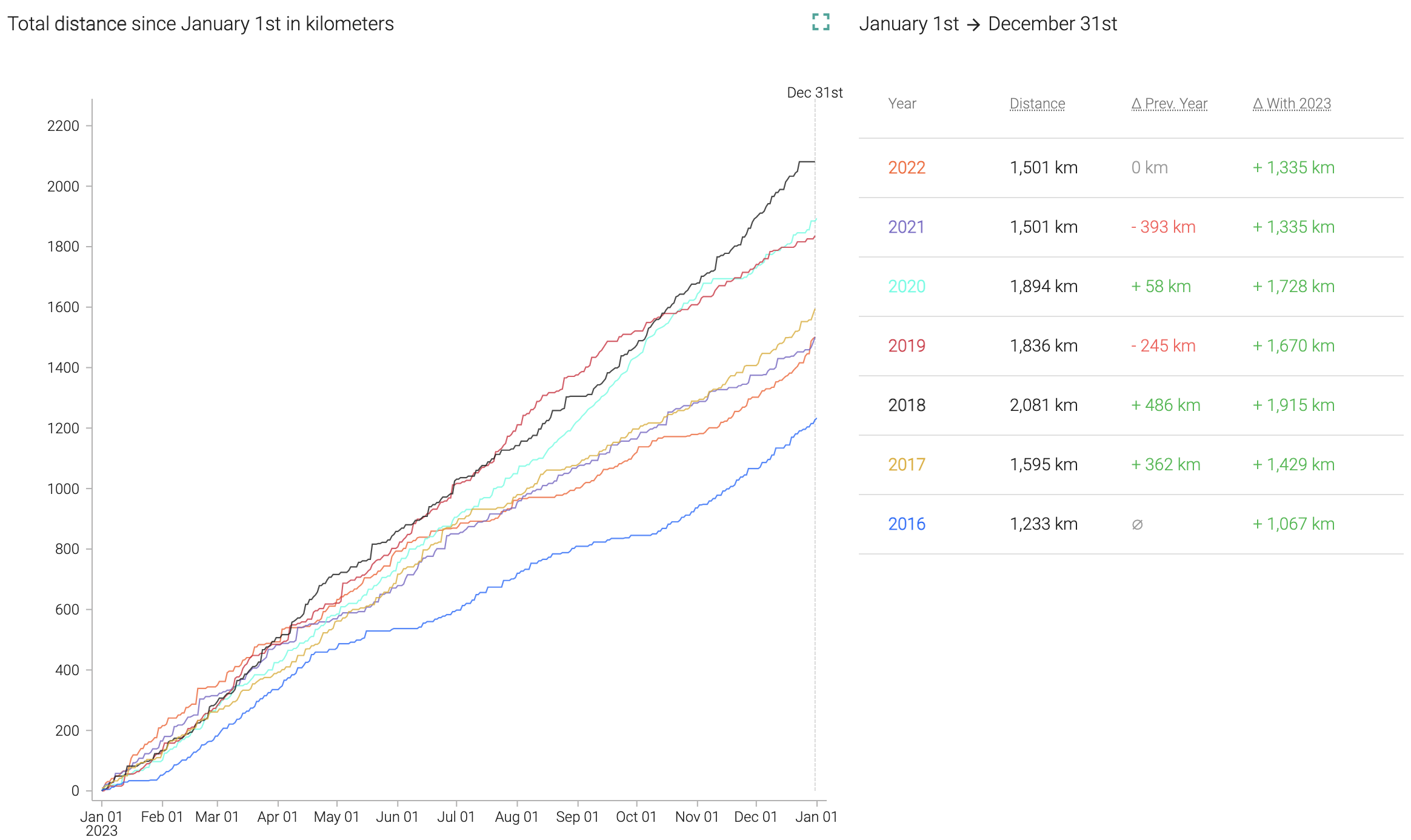 Year-on-year mileage progression, courtesy of Elevate for Strava
Non-covid stress
I started a new job in late 2021. It was my move from being an individual contributor into management, and whilst it's been incredibly rewarding it's also taken quite a few mental cycles. Spare minutes and hours through 2022 were occupied by thinking about what we can improve on as a team.
Further, we decided in 2021 to build a new house and by mid-2021 we'd bought a block of land and started working with Passivehaus building designers. We had lofty aims and wanted a high quality home. We sold our family home, which was the only home our kids had ever known, and moved into a freezing cold rental home.
All of this combined to make the first half of 2022 a very stressful continuation of 2021. One key stress related to building a home was the rapidly escalating cost - due in no small part to builders attempting to recover financially from Covid and by materials shortages caused by a combination of an unexpected war and general supply chain bed-shitting. In the middle of this, our dear old dog Abby needed to be put down as her health had deteriorated too far.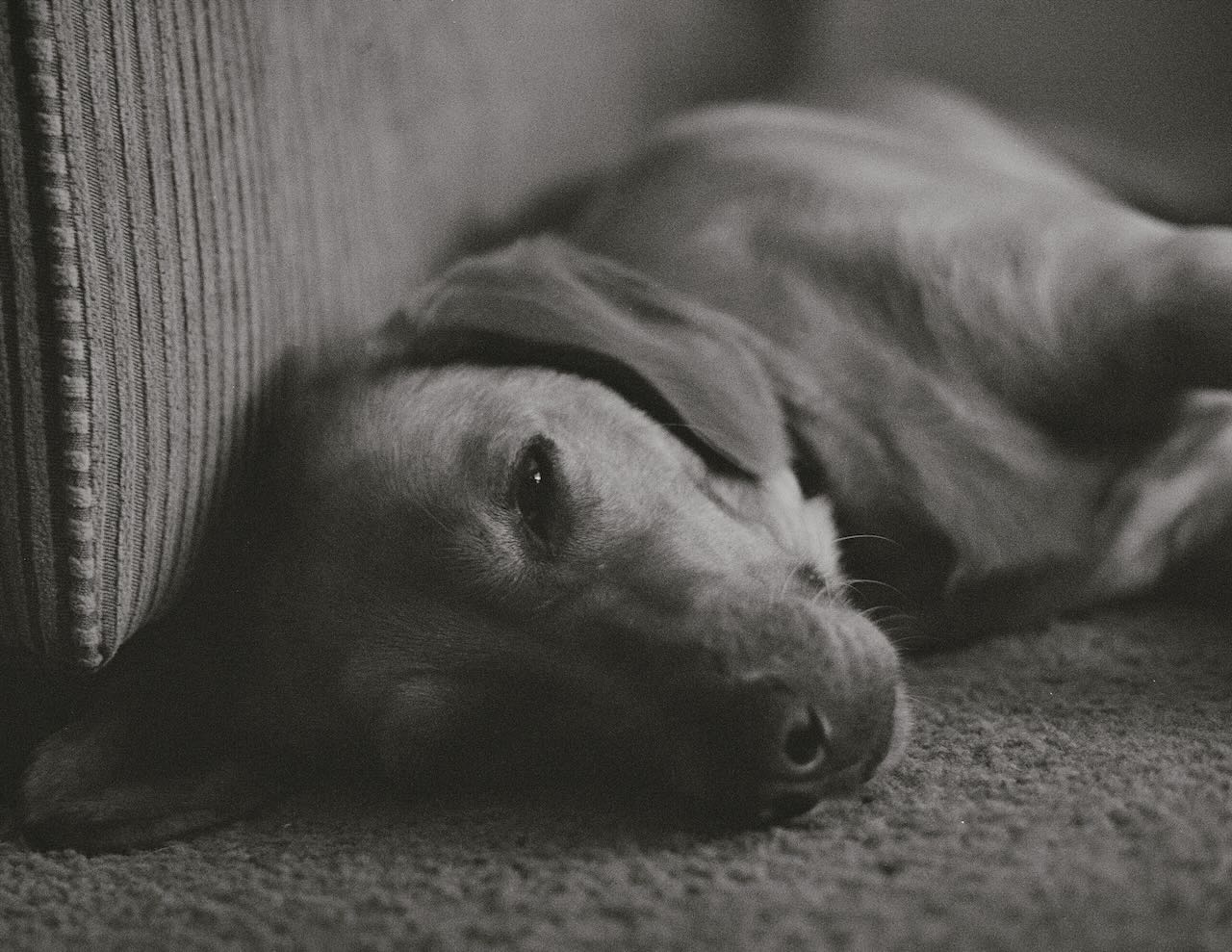 Vale Abby, c.2006 - 2022 (Photo by Ross)
So we added to do something about our stress. We decided to sell the land (we hadn't yet started building due to worry about costs) and buy an established home instead - which leads, inevitably, to multiple weekends of house inspections and stressful decision making - but it resulted in us landing in a comfortable family home that has given us some stability back.
Eventualy, we moved into a new home in the middle of the year and as well as taking away a huge amount of stress it opened up new running options, literally at my doorstep.
So what did I do with those new options?
Mostly nothing for most of the year, but I did get out a little for what I've called my "more of the same year". In December I restarted a formal training plan to prep for February 2023, and ended up having a 90km week in the last week of the year (including a marathon around the Mullum Mullum loop). This was by far my biggest week of running ever!
February: The Archie 50k
For the second time I returned to The Archie, the 50k "little brother" of the Oscars100 Hut to Hut race. Technically not a run - an alpine adventure for autism is the tagline - this is a beautiful but challening run at Mount Buller in Victoria's skifields. This is an epic adventure and I'll be back in 2023. I love the course but moreso I love the vibe of this event.
I wrote more about this event in last year's post, but the big difference for me in 2022 was that the weather was nearly perfect and we didn't get any weather-related interruptions. I finished over an hour quicker than the year before and had an absolute ball in the process!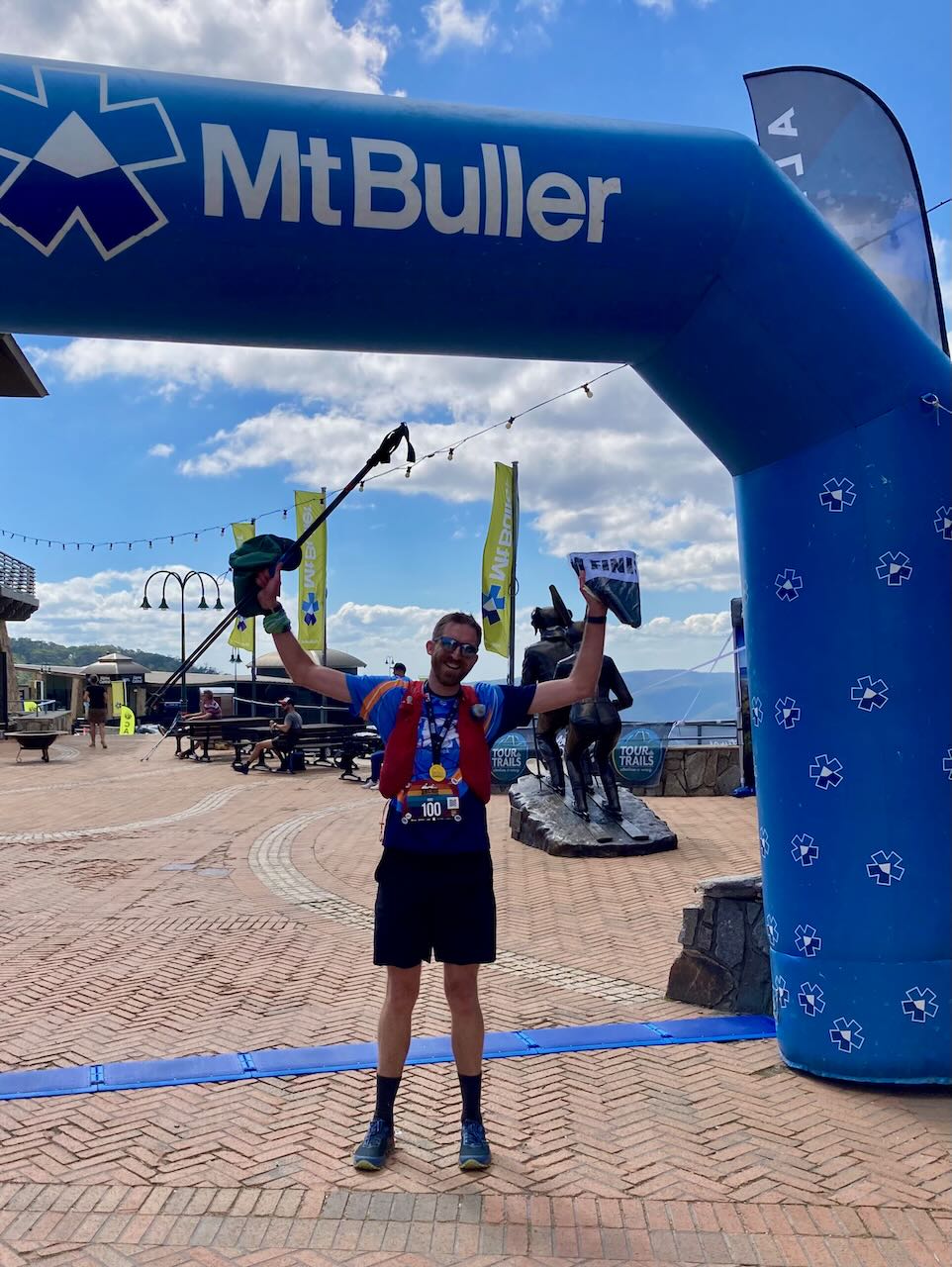 Ross at the finish line of The Archie 50k, 2022 (Thanks Lachlan for the photo)
Buffalo Stampede Skymarathon
I ran Buffalo for the first time in 2021 and really enjoyed it - ticking off a bucket list race is a nice feeling. This time through I had a group of running mates with me, which made it a great social weekend. Unfortunately Rob wasn't having a great day out, and so we were moving very slowly for the last 10km of the marathon.
My overall finish time was an hour or so slower than 2021 and it was raining on us as we descended Mystic into Bright to finish, but there was cold beer at the finish line and we had a great sense of comerarderie.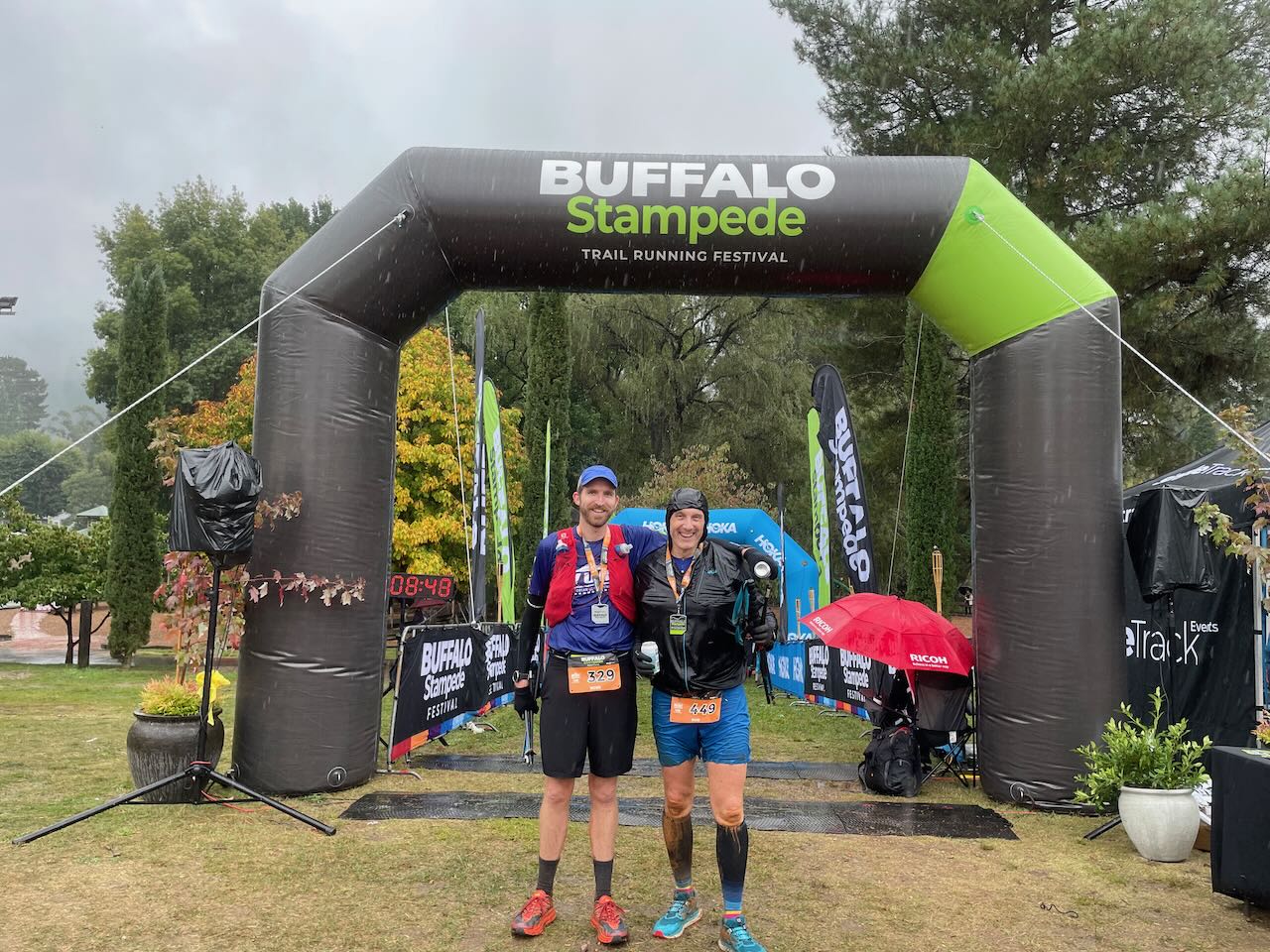 Ross and Rob at the finish line of The Buffalo Stampede Skymarathon, 2022 (Thanks Lachlan for the photo)
June: Surf Coast Trail Marathon. Abort, abort, abort!
Last year I noted that I don't tend to train for the SCTM and enjoy it anyway. In 2022 I changed things up a little bit: I didn't train, and I didn't enjoy it. My left knee was giving me grief and the pain was bad enough that I bailed out at the half way mark.
Important lesson: Don't disrespect the marathon. But yeah... I'll be back again in 2023 :D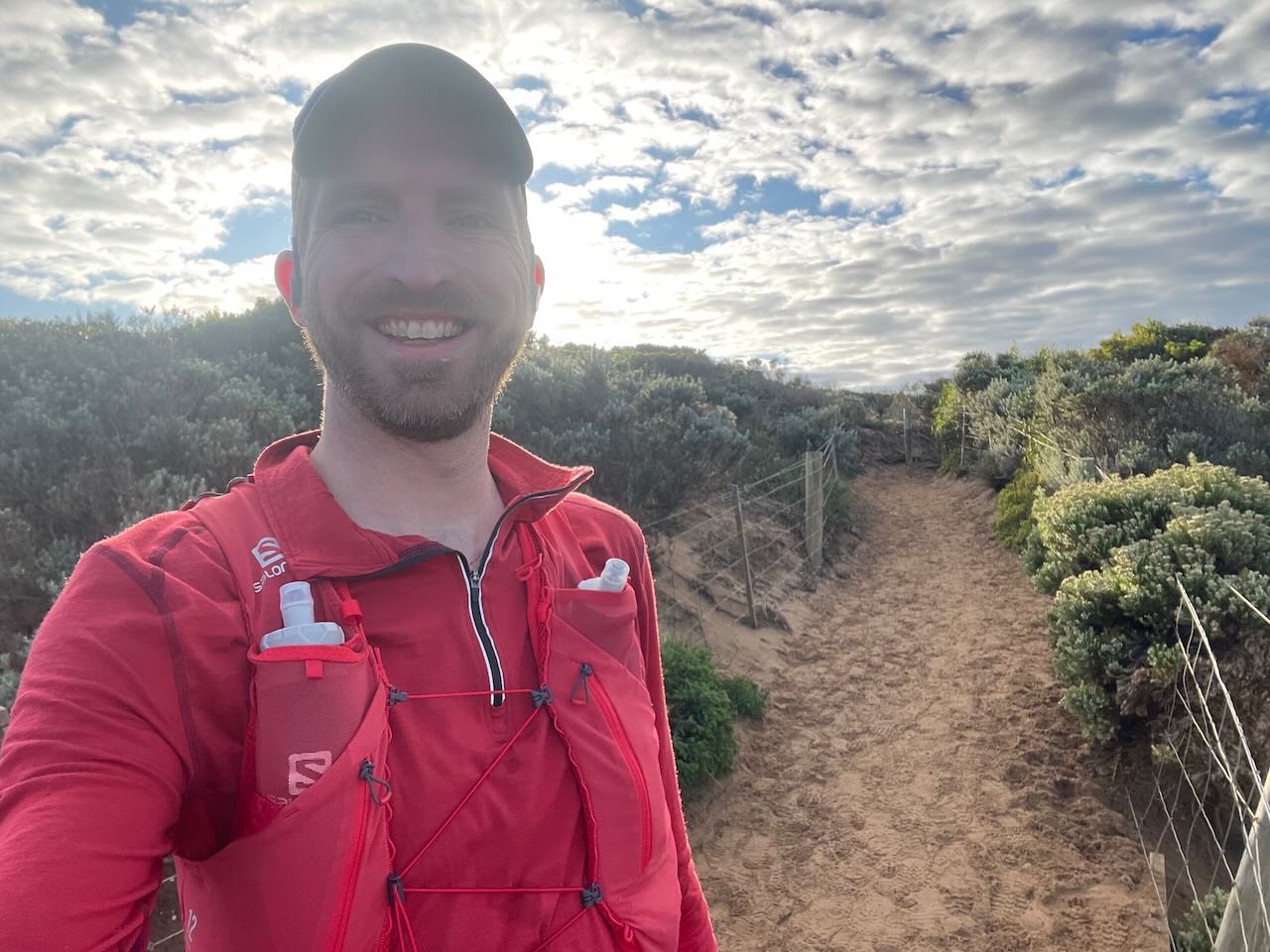 Midway through the Surf Coast Trail Marathon, 2022. About 10km into what ended up as 20km of a 42km run. Photo by Ross.
2022 Goal Review
Run 2,000km consistently throughout the year. Nope. Not even close. I ended up having a HUGE December (including 90km in one week - my biggest week ever) but still only just ticked over 1500km on New Year's Eve. This equalled my lowest total volume since I took up running in 2016.
Build strength I did a mediocre job of this. I did actually do strength work, and even went out and bought a set of dumbbells as bodyweight was no longer sufficient. Onwards and upwards!
Parkrun PB Nowhere close. My PB is 20:01 (set in 2019 when I was a parkrun regular) but my fastest time in 2022 was 23:56. To be fair, I didn't do any speed-focussed training.
Volunteer more I did a dreadful job of this. Absolutely horrendous job.
Goals for 2023
These might look familiar. The key theme is consistency.
Run 2,000km consistently throughout the year. Preferably not all in December.
Build strength My favourite running events are mountain marathons and ultramarathons. These need strength, and I want to step this up in 2023.
Parkrun below 21:00 My race goals tend to reward long hilly training sessions. I'll try to mix in some VO2Max work and get closer to my old PB.
Volunteer more
Deja vu!
Events for 2023
I'm writing this in late January, and it's almost 40 degrees celcius outside. I'm not keen on running anywyere. But the weather won't be shit forever...
February: I'm returning to The Archie 50k at Mt Buller. It's a great race for a great cause, but this will likely be my last time for a few years. I'm going to find something different to challenge myself in the early parts of 2024 (perhaps an event in New Zealand? Perhaps another stab at Two Bays 56k? Not sure...)
May: Ultra Trail Australia (UTA) 50k. UTA50 was my first ultramarathon back in 2018, and I'm keen to give it another go now I have a bit more experience in my legs.
June: Surf Coast Trail Marathon, because I'd be upset if I didn't at least give it a try
August: I'm signed up for Wonderland 20k, which should be a bit of fun
Late in the year: who knows? Possibly Surf Coast Century 50k? I need something new!
Cover photo: Running into the Sunrise. The first kilometer of The Archie, 2022. Photo by Ross Poulton.