As I've done in the past few years (2016, 2017, 2018) I have put together a rear-vision-mirror view on my year in running.
Overall I had a very successful year, but only if you end it in August. I ran a couple of Ultramarathons, set a 5k personal best, got a trail marathon PB, and had a shitload of fun. But I just didn't give myself enough rest, and it came back to bite me come Spring.
My mileage and vert was down year-on-year (2,043km with 40,701m elevation gain, vs 1,831km with 32,997m elevation gain), much of which I put down to not running much after August, but also not having a singular goal to train towards for much of the year.
Starting the year I attempted the 56km Two Bays, which blew up spectacularly (race report here). It reminded me to respect the distance - you can't pretend to train for an ultramarathon. It actually takes effort.
April saw my second successful ultramarathon ever at Mt Buller (45km race report) and May gave me my third ultra finish at Wilson's Promontory 60km. This was a big distance PB for me, a record for time-on-feet, and likely the furthest I'll run for a long time to come. It showed me that the 100km distance just isn't something that appeals, yet.
In June I returned to the Surf Coast Trail Marathon for the third time, with a PB by about 4 minutes (4:52, Strava Details despite a huge amount of mud. I'll be back to this one for sure.
The last event I raced was Wonderland 36km at Halls Gap, where I set a 23-minute personal best! My training for Wonderland couldn't have gone any better, and the results were just what I was looking for. It reminded me that a structured and focussed plan works.
Unfortunately, the lesson I should have learnt from 2018 was "rest between big races" and I managed to avoid doing that - this led to me sidelining myself after Wonderland with a series of minor ailments and overall lethargy towards endurance running.
I had planned to run (and actually paid for) the Marysville 50k in November, an end-of-year jaunt with mate Darren. Unfortunately my post-Wonderland funk got the better of me and I withdrew from the event a few weeks out, lifting a huge weight off my shoulders, but I ended up carrying guilt that Daz would have to go and run 50k by himself.
A few days before the race, with my body feeling a little better, I decided to quietly drive up to the race and join Darren for the last 15km of the race. The original plan was purely driven by the surprise factor, but once we got past the "What are you doing here?" part I was reminded that 50km by yourself is a darn long way - Daz was glad for the company and I was happy I could be there to share part of the journey.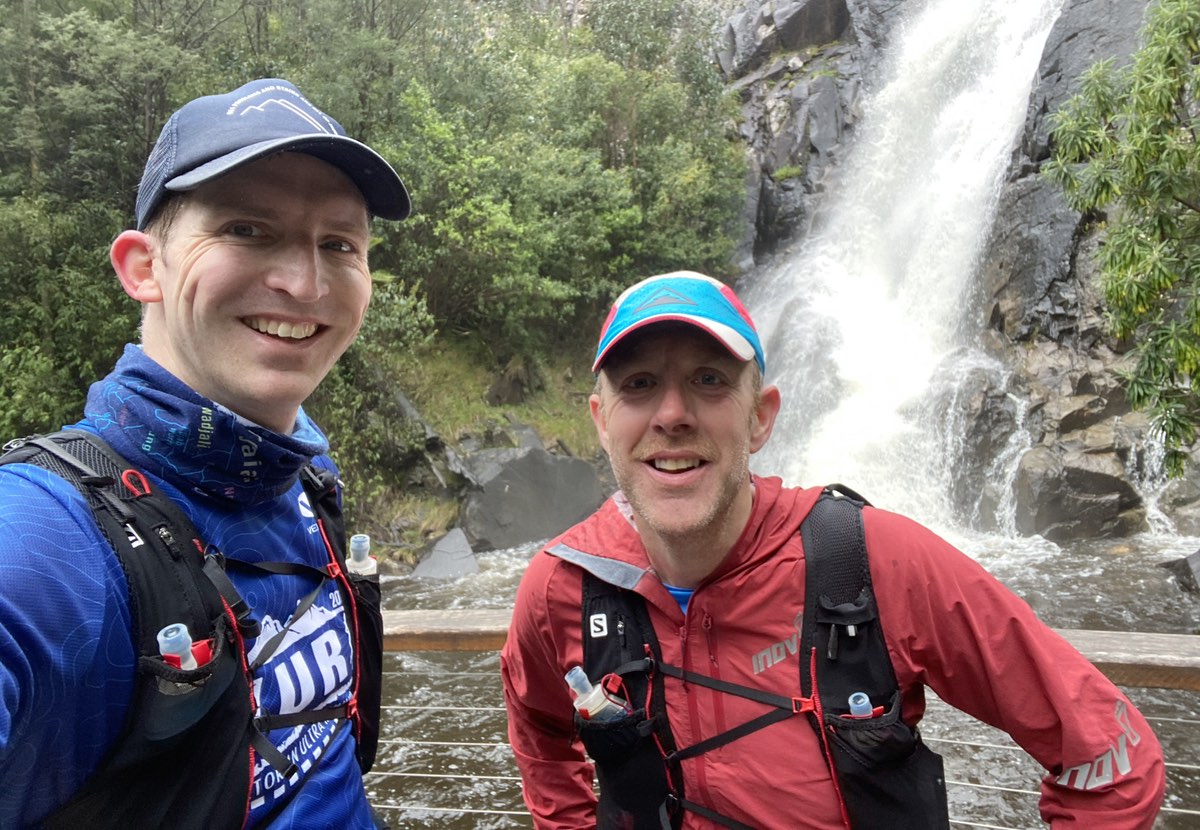 Photo: At Steavenson Falls in the Marysville Marathon 50k race, with Darren (at 45km) and me (feeling fresh at 10km). As a non-competitive run for me this was a real highlight.
Earlier in the year my 5km time at Parkrun dropped to 20:01 (I missed the seductive 19:xx finish time thanks to stopping to fix a fallen parkrun sign. Not the right time for good deeds, Ross!
The kids continued to occasionally run at Junior Parkrun, and enjoyed the 2km kids trail race the day before my own Wonderland race. They even spent a day out volunteering at an aid station during the Wonderland run festival!
Lastly, I jumped on a few short-course events at the Rapid Ascent Trail Running Series, finishing 4th in my age group at both events. These were done on a whim, purely for fun (I haven't properly raced something so short since I was new to running) and checked that box perfectly.
2019 Goal review
Run 2500km Bzzt. Managed just over 1,800km. In theory I was on track for 2,500km as of August/September, but in reality I was burning myself down too quickly. To paraphrase Eric Spence, "I was running at 1,800km pace but I just didn't know it yet".
Parkrun below 20 minutes Close enough!
10km below 41:30 If you don't race a 10k you won't fail the goal, right?
Four ultramarathons, including SCC 100km Close. I gave Two Bays a good go, all things considered, and successfully ran Buller and Wilson's Prom. The 100km race just wasn't on the cards once I did the Prom - although doing the 50km at SCC would be a blast, one day.
Foster an enjoyment of exercise in my family I think this improved this year, but needs some nurturing.
Goals for 2020
Run 2,000km, consistently through the year. 2,500km is unnecessary for my other goals. I'd rather consistently run and consistently rest.
Parkrun below 19:50. That's 12 seconds off my current time.
Volunteer more at parkrun
Keep the race load to 1 big race per quarter and ensure small races (i.e. Trail Series) don't interfere with the goal race.
Events for 2020
My dance card is pretty empty at the moment. I am entered in the Two Bays 28km (January 12th) but purely for social reasons - there's been zero additional training going on over the Christmas break.
In April I'll take on the Buffalo Stampede Skymarathon in my biggest-vert run ever (3,000m descent, 2,000m ascent). It's scaring the shit out of me, and true hill training starts in earnest after Two Bays.
Beyond that I have no specific plans. If I stick to my 1-per-quarter goal I'll look to around July or August, and again in October or November. That might mean taking on the Trail Series with proper short-race training, and perhaps the 50km at Surf Coast Century. SCC and Melbourne Marathon seems to soak up all of Melbourne's running attention late in the year so my options are somewhat limited... watch this space!
Despite some setbacks with stupid injuries I've really enjoyed my year in running. I'm looking forward to a sensible 2020!
Cover photo: The finish line of the 2019 Rapid Ascent Trail Running Series, where I entered the short-course race (6km) for a change of pace and finished 4th in my age group. I was absolutely rooted as I crossed the finish line.